Friday, October 15
9:00 a.m. – 10:00 a.m.
Hosted on Microsoft Teams
FREE TO ATTEND
The Power of Story. Why we need to tell our stories and how they can be used as a marketing tool and something to build strong, equitable communities.
Presenter: Joy Loewen, National Screen Institute – Canada (NSI)
---
Learning Outcomes:
Why we need to tell more stories in business and daily life
How stories can be used as marketing/networking tools to meaningfully connect with clients and fellow community members
Tips on how to develop your story
---
ABOUT OUR PRESENTERS: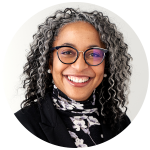 Joy Loewen has a passion for nurturing the development and promotion of stories and storytellers in Canada.
She is a media industry executive and the current CEO at the National Screen Institute – a not-for-profit organization supporting content creators from across Canada to tell unforgettable stories through industry-informed training and mentoring.
After graduating from Ryerson's Radio & Television Arts program Joy worked in the master control and programming departments at the newly launch Vision TV network and was a member of the team that launched the Women's Television Network (now W Network) in January 1995 from a home base in Winnipeg.
In addition to being a wife, and mother to two adult children, Joy is an active volunteer. She served on the board of directors at Balmoral Hall School for 10 years (three as vice chair and two as board chair) and has current leadership roles on several community and non-profit boards and councils including The Winnipeg Foundation, The Forks Foundation, Manitoba's Order of Manitoba and Queen's Council advisories. She also serves as a civilian aide to The Honourable Janice C. Filmon, Lieutenant Governor of Manitoba.