This event is no longer active.
Small Business Leadership Forum
Thursday, April 27, 2023  |  8:30 a.m. – 10:30 a.m.
Alt Hotel, 310 Donald St.
---
Online registration is now closed.

Members: Free to attend
Regular Rate: $25
---
ABOUT EVENT:
What makes a good leader to you? 
Being an effective leader requires us to be thoughtful and intentional about what we do and how we do it – it takes time and requires work. But as a small business owner, it's hard to find time to focus on your leadership strategies. Join us at our upcoming free small business forum to hear from our expert panel on leadership tips, strategies and tangible skills you can implement into your business or workplace today. 
Panelists:
Shreeraj Patel, Vice President of Commercial Financial Services, RBC

Cheryl Zealand, Owner & CEO, Cranked Energy Bars
---
PROGRAM:
8:30 a.m. – Registration Opens and Breakfast Service
9:00 a.m. – Formal Program Begins
9:20 a.m. – Q&A and Panel Discussion
10:00 a.m. – Facilitated Table Groups
10:30 a.m. – Program Ends
Small Business Supporters
---
ABOUT OUR PRESENTERS: 
Shreeraj Patel has an extensive background and involvement in the financial industry, both in Commercial and Corporate banking, for the last 18 years. He joined RBC in 2014 and was appointed Vice President Commercial Financial Services in 2017. He is responsible for a diversified team that covers the industry sectors of Real Estate Development, Construction Services and Supply Chain.
Outside of RBC, he currently serves on the Board of Directors of The Winnipeg Chamber of Commerce and is the past Chamber Chair for the 2020/21 operating year. He is also a member of the United Way Winnipeg Board of Trustees. A passionate member of the Asper School of Business Equity, Diversity and Inclusivity (EDI) Taskforce and a member of the James W. Burns Leadership Institute Advisory Board. He is also a board member of CentrePort Canada. He earned his Bachelor of Commerce (Honours) degree from the Asper School of Business, University of Manitoba and his MBA from the University of Phoenix (Vancouver campus).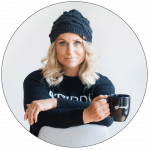 In 2014 Cheryl Zealand was quite content teaching accounting and finance courses online from her home while caring for her 3 young boys. A CPA.CA with years of experience managing large clients at one of Canada's top accounting firms, Cheryl always thought she would return to corporate life once her boys were in school full time.  A fitness enthusiast, Cheryl was well aware of what was on the market for energy bars. Most bars were on the shelves, had long shelf lives which meant ingredient listings full of chemicals and preservatives. Never mind the terrible chalky taste the market was accustomed to.
Wanting to feed her family a healthier option, Cheryl began experimenting each month with formulations which would provide a satisfying, great tasting, high protein fresh energy bar with no preservatives. 3 years, 72 formulations, a $50/ month investment for ingredients, and a never give up attitude resulted in the Cranked Energy Bar.
In the past 8 years Cranked Energy has grown from a home kitchen to rental kitchens to a small kitchen and storefront on Portage Ave and now a 4000 square foot manufacturing facility. With over 200 Manitoba retailers including Sobeys, Safeway and Save On Food and a major rebrand in 2022 Cranked has proven it's ready for a National scale up in 2023.
Cranked Energy is breaking ground in fresh grab + go food while also being a leader in community initiatives for marginalized youth and the fight to make healthy food accessible to everyone.
310 Donald St.
Winnipeg, MB