ABOUT EVENT:
Small Business Forum
Thursday, September 28 | 1:30 p.m. – 3:30 p.m.
Hilton Winnipeg Airport Suites
Speaker: Ryan Bialek, Clear Concepts. Manager, Modern Workplace
With Generative AI (Artificial Intelligence) dominating news, you may be wondering what it is and why your small business should care about it. During our first Small Business Forum of the season, hosted by Clear Concepts, hear why it's worth your time to consider using AI, provide practical examples that can start saving you time and pitfalls you need to be on the lookout for. 
---
REGISTRATION CLOSED
Free for members
Regular Rate: $25 +GST
To learn more about the benefits of a Chamber membership, including discounted ticket rates click here.
---
WHAT YOU SHOULD KNOW
Accessibility: We strive to host inclusive, accessible events that enable all individuals to engage fully. If you require accommodation please let us know when purchasing tickets.
Refund Policy: Refunds will only be issued with a minimum of 72 hours of notice before the event. Should you require a change of your ticket after that time, we kindly ask that you find a replacement for your ticket. If you have further questions, please direct them to [email protected]
SMALL BUSINESS CHAMPIONS
---
ABOUT OUR SPEAKER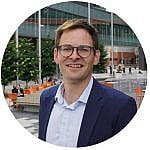 For most of his life, Ryan Bialek has been enthusiastic about technology – but he never thought he would build a career from his love of computers. Today, Ryan is a recognized advocate for the Microsoft Cloud, using his passion to help organizations digitally transform. Ryan has spent the last four years at Clear Concepts leading a Modern Workplace practice that has assisted hundreds of organizations realize the full potential of Microsoft 365 and Microsoft Teams. Ryan provides leadership across a team of Software Trainers, Cloud Consultants, Developers, and Data & AI Specialists.
1800 Wellington Avenue
Winnipeg, MB