September Luncheon: Planning for the Next Disruption
Thursday, September 23, 2021  |  11:30 a.m. – 1:00 p.m.
Hosted on Hopin
Free to attend for members
$25+GST for Future Members
ABOUT EVENT:
The event industry came to a disruptive halt at the beginning of the pandemic and how we gather will never be the same. As we move forward, how do in-person events look like and how do we properly plan for the next disruption? Hear from award-winning event producer Frank Supovitz on his take of the future of events and his career lessons of being ready for the next disaster.
PROGRAM
11:30 a.m. – Webinar Opens / Exhibitors
12:00 p.m. – Program Starts
12:10 p.m. – Keynote Address
12:40 p.m. – Virtual Networking Roundtable
Participate in virtual networking roundtables (max. 10 members)
Debrief what you learned and share your thoughts with other local business and community leaders
Connect with a purpose and build meaningful relationships (maybe even schedule a coffee date in the future!)
1:00 p.m. – Program Ends
Instructions to access Hopin will be emailed to members prior to the scheduled event.
---
ABOUT OUR KEYNOTE: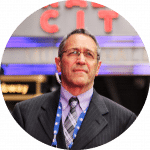 Frank Supovitz, President and CEO, Fast Traffic Events and Entertainment

For more than 30 years, Frank Supovitz has been at the helm of some of the world's most prestigious, widely-viewed, and well-attended sports and entertainment events. He served a combined 23 years as the Senior Vice President of Events for the National Football League and the Group Vice President of Events & Entertainment for the National Hockey League. Supovitz founded Fast Traffic in 2014, an award-winning event management, production, and consulting firm that has served a wide range of sports and entertainment clients, including the Indy 500, Major League Baseball, Major League Soccer, the South Street Seaport in New York City, and Australia's National Rugby League, among others. Frank is the host of the When Things Go Wrong podcast and author of What to Do When Things Go Wrong and The Sports Event Management & Marketing Playbook, the definitive textbook used by sports business professionals and universities across the globe for more than a decade.