This event is no longer active.
Becoming A Connector
Hosted by Shreeraj Patel, Winnipeg Chamber of Commerce Board Chair and Vice President of Commercial Financial Services at RBC
Wednesday, May 26, 2021 *new date and time
12 – 1:30 p.m.
FREE TO ATTEND (MEMBERS ONLY)
ABOUT EVENT

Connectors make change happen through people. The COVID-19 pandemic has amplified our need to connect and come together to share our knowledge. Connections are key to a successful business, but how can we become the connector?
Shreeraj Patel will walk attendees through what it means to be a connector, and how you can use your network to connect the right people together to make change happen. Attendees will also learn some helpful tips on how to use LinkedIn effectively to expand your network.
PROGRAM
12:00 p.m.   Welcome
12:05 p.m.   Introductions
12:10 p.m.   Speaker
12:45 p.m.   Networking exercise
1:30 p.m.  Program ends
​ABOUT NETWORKING 101s
We understand the skill of networking is one that seems simple, yet somehow is challenging for most of us. Whether it's communicating a clear message or the intimidation of what people might think of you. Networking 101 will provide you with the opportunity to develop skills that will help you grow your business connections and relationships.
Facilitated by Winnipeg's business influencers, Networking 101 takes your abilities from beginner to practiced in a fun learning atmosphere.
---
​ABOUT SPEAKER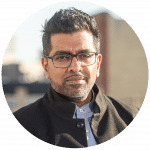 ​Raj Patel has an extensive background and involvement in the financial industry both in commercial and corporate banking for the last 18 years.
Patel joined RBC in 2014 and was appointed to the role of Vice President, Commercial Financial Services in 2017. He is responsible for a diversified team that covers the industry sectors of: Real Estate Development/Private and Public REITS, Construction Services, Public Sector, Supply Chain and Transportation.
Raj earned his Bachelor of Commerce (Honours) degree from the Asper School of Business, University of Manitoba and his MBA from the University of Phoenix (Vancouver campus).