May Luncheon: Road to Reconciliation
Thursday, May 19, 2022  |  11:00 a.m. – 1:30 p.m.
Victoria Inn Hotel & Convention Centre – North Centennial Ballroom
Keynote Speakers:
The Honourable Murray Sinclair
Dr. Niigaanwewidam James Sinclair
---
Discounted Member Rate: $60 +GST
Regular Rate: $120 +GST

To learn more about the benefits of a Chamber membership, including discounted ticket rates click here.

REGISTRATION CLOSED

Registration deadline May 11, 2022 at 5 pm.

Please contact [email protected] to be added to a waitlist.

The Winnipeg Chamber encourages attendees to wear masks and practice social distancing. Please stay home if you are sick. COVID-19 Screening Tool
Please note, refunds will only be issued with a minimum of 72 hours of notice before the event. Should you require a change of your ticket after that time, we kindly ask that you find a replacement for your ticket. If you have further questions, please direct them to [email protected]
---
ABOUT EVENT:
Reconciliation with our Indigenous communities is an important and ongoing personal journey. To understand the harm of our country's history and to pave a new path forward, each individual needs to look inward and reconcile themselves. To support us on our journeys, we welcome two generations of changemakers to discuss the progress made since the Truth and Reconciliation Commission released the 94 Calls to Actions in June 2015.
PROGRAM
11:00 a.m. – Registration, networking and exhibitor booths
12:00 p.m. – Program starts
12:15 p.m. – Lunch service
12:40 p.m. – Fireside Chat
1:30 p.m. – Program ends
TITLE SPONSORS
| | | |
| --- | --- | --- |
| | | |
VIP RECEPTION SPONSOR
ROUNDTABLE SPONSOR

---
ABOUT OUR KEYNOTES: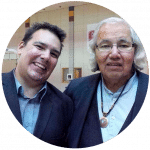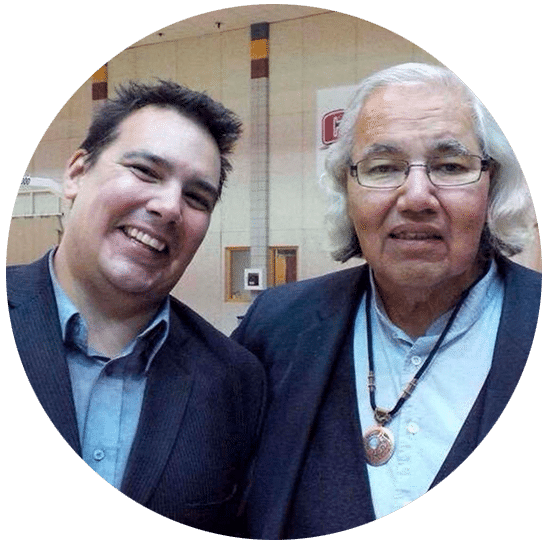 Dr. Niigaanwewidam James Sinclair, Professor and Writer
Niigaanwewidam James Sinclair is Anishinaabe (St. Peter's/Little Peguis) and an Assistant Professor at the University of Manitoba. He is a regular commentator on Indigenous issues on CTV, CBC, and APTN, and his written work can be found in the pages of The Exile Edition of Native Canadian Fiction and Drama, newspapers like The Guardian, and online with CBC Books: Canada Writes. Niigaan is the co-editor of the award-winning Manitowapow: Aboriginal Writings from the Land of Water (Highwater Press, 2011) and Centering Anishinaabeg Studies: Understanding the World Through Stories (Michigan State University Press, 2013), and is the Editorial Director of The Debwe Series with Portage and Main Press.
Niigan obtained his BA in Education at the University of Winnipeg, before completing an MA in Native- and African-American literatures at the University of Oklahoma, and a PhD in First Nations and American Literatures from the University of British Columbia.
The Honourable Murray Sinclair LLB MSC IPC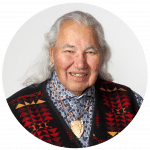 The Honourable Murray Sinclair's legal credentials are well known. What is less well known is that he is Anishinaabe and a member of the Peguis First Nation. He is a Fourth Degree Chief of the Midewiwin Society, a traditional healing and spiritual society of the Anishinaabe Nation responsible for protecting the teachings, ceremonies, laws, and history of the Anishinaabe. His Spirit Name is Mizhana Gheezhik (The One Who Speaks of Pictures in the Sky).
His Honour graduated from law school in 1979. He has been involved with the justice system in Manitoba for over 40 years, first as a lawyer representing Indigenous clients, as an Adjunct Professor of Law at Robson Hall, as Associate Chief Judge of Manitoba's Provincial Court and as a Justice of the Court of Queen's Bench. He was the first Indigenous Judge appointed in Manitoba and Canada's second.
He served as Co-Chair of the Aboriginal Justice Inquiry of Manitoba and as Chief Commissioner of Canada's Indian Residential Schools Truth and Reconciliation Commission (TRC). As head of the TRC, he participated in hundreds of hearings across Canada, culminating in the TRC's widely influential report in 2015. He also oversaw an active multi-million dollar fundraising program to support various TRC events and activities, and to allow survivors to travel to attend TRC events. In 2017 Governor General Julie Payette awarded him and the other TRC Commissioners the Meritorious Service Cross (Civilian) (MSC) for service to Canada for their work on the TRC.
He was active within the profession and his community and was a member of the faculty of the National Judicial Institute training judges about Indigenous law and social justice issues. He has won numerous awards, including the National Aboriginal Achievement Award, the Manitoba Bar Association's Equality Award (2001), its Distinguished Service Award (2016) and the CBA President's medal (2018). He has been named as one of Canada's Indigenous People's Counsel (IPC) by the Indigenous Bar Association.
He has received Honorary Doctorates from 19 universities. He retired from the Bench in January 2016, and was appointed to the Senate on April 2, 2016. He retired from the Senate effective January 31, 2021, to return to the practice of law and to mentor young lawyers. 
He has been invited to speak throughout Canada and internationally, including the Cambridge Lectures for members of the Judiciary of the Commonwealth Courts.  He continues to maintain an active public speaking schedule and was named the 15th Chancellor of Queen's University in July 2021. His Honour is currently writing his memoirs.
---
We strive to host inclusive, accessible events that enable all individuals to engage fully. If you require accommodations for an upcoming event, you are able to make a request upon registration or by emailing [email protected].
1808 Wellington Ave.
Winnipeg, MB