This event is no longer active.
May Luncheon: Protecting your Business from Cyber Attacks
Thursday, May 18, 2023  |  11:30 a.m. – 1:30 p.m.
RBC Convention Centre, 375 York Ave.
Main Floor, North Building
Keynote Speaker: Dr. Eman Hammad, Director, innovations is Systems' Trust and Resilience
---
Discounted Member Rate: $65 +GST
Regular Rate: $130 +GST

To learn more about the benefits of a Chamber membership, including discounted ticket rates click here.

Online registration is now closed.

Please email [email protected] to check availability.
Please note, refunds will only be issued with a minimum of 72 hours of notice before the event. Should you require a change of your ticket after that time, we kindly ask that you find a replacement for your ticket. If you have further questions, please direct them to [email protected]
---
TITLE SPONSORS
ABOUT EVENT:
It's something most of us think won't happen to us – until it does. Have you ever got an email request from a team member asking you for a strange request? Yes, us too. Cybersecurity is the important practice of protecting your client data, organizational systems and networks from cyber attacks.
How can your team best assess risk of cyber attacks in emerging technologies during everyday tasks? And as an organization, how do you build pro-active and secure systems and networks that prevent these attacks from even taking place?
PROGRAM
11:30 a.m. – Registration, networking and exhibitor booths
12:00 p.m. – Program starts
12:15 p.m. – Lunch service
12:40 p.m. – Keynote Speaker
1:30 p.m. – Program ends
---
ABOUT OUR KEYNOTE: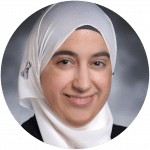 Dr. Eman Hammad
Dr. Eman Hammad is a cybersecurity professional & interdisciplinary professional focusing on trustworthy & resilient complex systems and emerging technologies. She obtained her PhD in Electrical & Computer Engineering from the University of Toronto. Eman combines practical experience and theoretical research to shape her vision for resilient-by-design solutions in the connected world. She is the director of the innovations in Systems Trust & Resilience (iSTAR) lab. Eman's work has been published in more than 50 papers, and was recognized with merit awards (best paper award, best poster award) and has been featured on multiple outlets. Most recently, she was honored as one of Canada's Top 20 Women in Cybersecurity. Eman is a senior IEEE member currently serving as Toronto ComSoc chair, and the co-chair of the IEEE 5G Security working group for the International Network Generations Roadmap (INGR). She delivered numerous invited talks in academic and industrial conferences, chaired and co-chaired several conferences and workshops, and participated in several panels. She serves on the advisory board of several initiatives. Eman is an active advocate for diversity and inclusion in STEM and Cybersecurity. Her service has been recognized by IEEE exceptional, chapter achievement, and exemplary service awards.
375 York Ave.
Main Floor, North Building
Winnipeg, MB