ABOUT EVENT:
Revitalizing the Core: Embracing Development and Change
Thursday, March 21, 2024
RBC Convention Centre, North Building, 1st Floor
Keynote Speaker: Sara Stasiuk, Chief Executive Officer, The Forks North Portage
Experience the pulse of change as Sara Stasiuk, CEO of Forks North Portage, dives into the areas in which they are focused on the revitalization of our downtown and how they are exploring how embracing growth, innovation, and adaptability can breathe new life into our urban core, through major projects at The Forks and Railside, safety and more.
---
Discounted Member Rate: $68.75 +GST
Regular Rate: $137.50 +GST
Tables of 8 and 10 also available for purchase
To learn more about the benefits of a Chamber membership, including discounted ticket rates click here.
---
PROGRAM
11:30 a.m. – Registration, networking and exhibitor booths
12:00 p.m. – Program starts
12:15 p.m. – Lunch service
12:40 p.m. – Keynote Address: Sara Stasiuk
1:30 p.m. – Program ends

WHAT YOU SHOULD KNOW
Accessibility: We strive to host inclusive, accessible events that enable all individuals to engage fully. If you require accommodation please let us know when purchasing tickets.
Refund Policy: Refunds will only be issued with a minimum of 72 hours of notice before the event. Should you require a change of your ticket after that time, we kindly ask that you find a replacement for your ticket. If you have further questions, please direct them to [email protected]

ABOUT THE KEYNOTE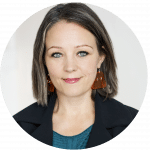 Sara Stasiuk leads The Forks North Portage Development Corporation with over 25 years of experience in community development, business operations, culture, and music, and as a born-and bred Winnipegger who has participated in the evolution of The Forks since its inception in 1989. Throughout her career, she has contributed to The Forks as a meeting place both from outside the organization through her work as Executive Director of Manitoba Music and Director of Operations for the Interstellar Rodeo Festival, and from within, through her five years as the Vice President of Finance & Operations for The Forks itself. Sara leads from a place of innovation, strategic direction, and reconciliation to offer a warm and generous welcome to all, while tapping into her expertise in accounting, finance, and operations. Supporting the arts continues to be where Sara lends her skills outside the workplace. She is involved at the board level with the National Gallery of Canada, the Manitoba Arts Council, Manitoba Foundation for the Arts, Winnipeg Host Committee and Travel Manitoba.
375 York Ave.
North Building, 1st Floor
Winnipeg, MB