*
POSTPONED*
CODE Workshop with Dr. Rehman Abdulrehman

Thursday, January 20, 2022  | 
2:00 p.m. – 3:30 p.m.
Fairmont Winnipeg
---
Membership Luncheon + workshop (members only): $90 +GST  **$110 value; save $20 from the workshop cost

Workshop only (members): $45 +GST

Workshop add-on for existing luncheon attendees (season seats + registered attendees): $25 +GST

To learn more about the benefits of a Chamber membership, including discounted ticket rates click here.

REGISTER HERE

Digital and/or physical COVID immunization card will be mandatory at our event check-in for all Winnipeg Chamber in-person gatherings.
Please note, refunds will only be issued with a minimum of 72 hours of notice before the event. Should you require a change of your ticket after that time, we kindly ask that you find a replacement for your ticket. If you have further questions, please direct them to [email protected]
---
ABOUT OUR SPEAKER: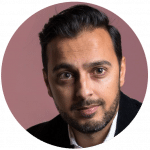 Dr. Rehman Abdulrehman, Clinical Psychologist, Owner of Lead with Diversity

A clinical and consulting psychologist, Dr. Abdulrehman is lauded as a "beguiling storyteller, gifted speaker, and subject matter expert on inclusion and diversity," as well as "an emerging force on leadership and cultural diversity," Dr. Rehman Abdulrehman has a well-honed ability to catalyze insight-oriented change through powerful storytelling and practical psychology that sticks with people.
A Canadian of Zanzibari descent, Dr Abdulrehman draws on his extensive professional expertise and his life as an immigrant from an ethnic, cultural and religious minority, to illustrate the necessary concepts and actions for lasting change. In addition to speaking, he coaches, consults and delivers compelling experiential learning events, all designed to create a bridge of understanding and compassion across common human experiences and activate potent human transformation.
Dr. Abdulrehman's portfolio is vast and international, having worked with organizations including the Canadian Broadcasting Corporation, the Royal Canadian Mounted Police, the Mastercard Foundation, Kaplan and the Young Presidents Organization. He is a subject matter specialist for Google/Youtube on unconsicious bias and also a member of the Conference Board of Canada's Council of Inclusive Work Environments. His work has been recognized by the Society of Consulting Psychology for Excellence in Diversity & Inclusion (D&I) Consulting.
He's held numerous leadership roles within his own profession, including being a past president for the Manitoba Psychological Society and Chair of the Committee on International Relations for Psychology with the American Psychological Association.
Dr. Abdulrehman is an assistant professor at the University of Manitoba, has been a visiting professor at the State University of Zanzibar, Zanzibar University and Muhimbili University over the past decade where he helped teach and develop mental health programs in low resource settings. He was also a TEDx speaker on the topic of "Resolving Unconscious Bias", and hosts a podcast, Different People, addressing the difficulty but necessary conversations on issues of racism. He is also a lover of cakes, bakeries, and is the Mandalorian to a 8-year-old Grogu.
2 Lombard Place
Winnipeg, MB