CODE Workshop: Gender Inclusive Language | VIRTUAL

Monday, March 7, 2022  | 
1:30 p.m. – 3:30 p.m.
Speaker: Racheal Wu, 2STLGBQ+ Program Facilitator at Sexuality Education Resource Centre (SERC)
---
Free For Members
Regular Rate: $25 +GST

To learn more about the benefits of a Chamber membership, including discounted ticket rates click here.
Please note, refunds will only be issued with a minimum of 72 hours of notice before the event. Should you require a change of your ticket after that time, we kindly ask that you find a replacement for your ticket. If you have further questions, please direct them to 

[email protected]

.
---
ABOUT EVENT:
This workshop will focus on how to communicate inclusively with practical tools and strategies. The event will cover why gender inclusive language matters, current terminology and how to use it, identify language based microaggressions and the importance of gender inclusive language in creating a safe and respectful workplace.
You will learn:
Current 2STLGBQ+ language
effects of discrimination
How to use and ask about pronouns
How to make your environment more inclusive
Resources and services for the 2STLGBQ+ community
---
ABOUT OUR SPEAKER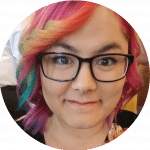 Racheal Wu
Racheal has spent a majority of her life in the Westman region; she lived in rural Manitoba before relocating to Brandon for post-secondary education. She obtained her degree in Gender and Women's Studies from Brandon University in 2017. She worked in a domestic violence advocacy role at the local women's resource, before moving into her 2STLGBQ+ Program Facilitator role at The Sexuality Education Resource Centre. Racheal is passionate about the 2STLGBQ+ community and rural Manitoban experiences.