This event is no longer active.
CODE 101 – Virtual

Tuesday, March 15, 2022  | 
10:00 a.m. – 11:00 a.m.
With Rosalie Best, Webinar Facilitator
No cost to attend
---
ABOUT EVENT:
Learn from someone with lived experience about why disability diversity in the workplace is important and how to make a change in your workplace.
You will learn:
Why accommodation is important
How to encourage accommodation disclosure
How to interact with people with disabilities
CODE 101's will provide an overview of The Chamber's newest program – Commitment to Opportunity, Diversity and Equity (CODE). CODE aims to provide organizations with impactful strategies, guidance, and connections to improve diversity, equity and inclusion in your workplace. Learn more about the program, and how we can support you on your DEI journey!
---
​ABOUT OUR SPEAKER
Rosalie Best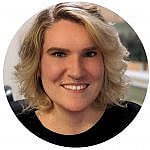 Rosalie Best graduated from The University of Manitoba in 2013 where she studied English literature. It was when she chaired a disability youth council for the Independent Living Resource Centre that she decided I would work in the disability community. Rosalie was a career counselor helping people with disabilities join the workforce for 5 years, first at Premier Choix where she worked in the French community mainly with teens and young adults transitioning into posts secondary life. She then worked at Vision Loss Rehabilitation Manitoba helping people with vision loss prepare for, find, or keep employment. Rosalie also worked for the Manitoba League of Persons with Disabilities where she delivered webinars to employers on proper workplace accommodation and helped community members find resources for accessibility. As a power wheelchair user and a disability rights activist, she has spoken to the media numerous times about accessibility issues locally and nationally.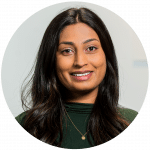 Sanjana Vijayann
Sanjana Vijayann is the Diversity and Inclusion Manager at The Winnipeg Chamber of Commerce. Her background in Political Studies and Economics launched a career that is focused on engaging with governments and institutions to better serve people and the planet. Her work and volunteer experiences has centred around three themes: youth empowerment and leadership, creating high impact programming, and advocating for equity. With the context of the current COVID-19 pandemic, she is particularly interested in the ways we can ensure a full economic recovery that centres communities that have been most impacted.
---