June Luncheon: Celebrate Winnipeg – The Importance of Indigenomics
Thursday, June 8, 2023  |  11:30 a.m. – 1:30 p.m.
RBC Convention Centre Winnipeg, York Ballroom 1, South Building
---
Discounted Member Rate: $65 +GST
Regular Rate: $130 +GST

To learn more about the benefits of a Chamber membership, including discounted ticket rates click here.

The Winnipeg Chamber encourages attendees to wear masks and practice social distancing. Please stay home if you are sick. COVID-19 Screening Tool
Please note, refunds will only be issued with a minimum of 72 hours of notice before the event. Should you require a change of your ticket after that time, we kindly ask that you find a replacement for your ticket. If you have further questions, please direct them to [email protected]
---
PRESENTING SPONSOR

TITLE SPONSORS
ABOUT EVENT:
This year's Celebrate Winnipeg luncheon will focus on the celebration of Indigenous History Month as we hear from a panel of Indigenous business leaders. The panel will discuss the importance of Indigenous businesses and how they are integral to our economy. 
Join us for the year-end celebration at our 7th annual Celebrate Winnipeg luncheon and share in the love of our love for our great city. 
PROGRAM
11:30 a.m. – Registration, networking and exhibitor booths
12:00 p.m. – Program starts
12:15 p.m. – Lunch service
12:40 p.m. – Keynote Speaker
1:30 p.m. – Program ends
---
ABOUT OUR PANELISTS: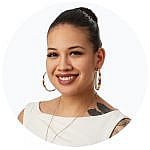 Ashley Richard is the Associate Director, Indigenous for the National Indigenous Hub at the University of Manitoba. She holds a Masters in Management Innovation & Entrepreneurship from the Smith School of Business at Queen's University. Ashley also runs her own consulting business. Ashley completed a Bachelor of Commerce (Honours) from the University of Manitoba's Asper School of Business, where she was the premier recipient of the Full Indigenous Business Scholarship at the Asper School of Business. Ashley majored in Aboriginal Business Studies, focusing on economic development. Her final project on Indigenous economic development was published in the Journal of Aboriginal Economic Development in the fall of 2017. In 2014, she received the 20th Anniversary Manitoba Aboriginal Youth Achievement Award (MAYAA) for her accomplishments. Ashley is passionate about supporting the community she lives and works in and currently serves as Chair of the Walking Together Grants for The Winnipeg Foundation and as a Member on the Board of Governors with Red River College and Board of Directors for North Forge. After receiving the MAYAA award in 2014, Ashley volunteered on the MAYAA Planning Committee for 5 years. Ashley was the recipient of the Oscar Lathlin Memorial Award from Ka Ni Kanichihk at the June 2021 Keeping the Fires Burning Ceremony. In December 2021, Ashley will humbly receive the Distinguished Alumni Award, Outstanding Young Alumni, from the University of Manitoba. Ashley is a proud Indigenous woman with Métis and Ojibway heritage from Pine Creek First Nation and Camperville, Manitoba.
Kendell Joiner (Méstaéhotóá'e) is an American-born, proud member of the Northern Cheyenne Nation located in Southeast Montana. Having grown up around his tribe and culture, the values of community, unity, and the common-good are centrepiece lessons that he carries in his current role as the Chief Executive Pathfinder of the Native Clan Organization. The Native Clan Organization is an Indigenous organization that takes a culturally centered approach of healing with our relatives returning back to their communities or starting new lives after contact with the justice system. Kendell holds multiple undergraduate degrees in Criminal Justice, Corrections, and possesses a Master of Public Administration education that he utilizes to change systems and make our world a more balanced and empathetic one. Kendell serves on a number of boards, advisory councils, and community groups such as serving as the Co-Chair for the Winnipeg Indigenous Executive Circle, the Combined Community Council for the Salvation Army Centre of Hope, and Siloam Mission's Indigenous Advisory Council to name a few. Kendell also founded the Ghost Bull Consultancy, a consulting business that specializes in advising public sector organizations in achieving balance that comes from applying an Indigenous lens to today's administrative and logistical operations.
375 York Ave.
York Ballroom, South Building
Winnipeg, MB