ABOUT EVENT:
Building an Inclusive Workforce: The DEI Journey from Hire to Retire: CODE Workshop
Thursday, May 9, 2024 | 10:00 a.m. – 11:30 a.m.
Hosted on Zoom
Keynote Speaker: Juanita DeSouza-Huletey, Founder, CEO and Lead Coach of Dynamic Solutions International Inc.
Building an Inclusive Workforce: The DEI Journey from Hire to Retire" is an interactive workshop that takes participants through the essential phases of integrating Diversity, Equity, and Inclusion (DEI) into every stage of employment. From strategic hiring practices to fostering an environment that champions diversity, this session offers practical tools and strategies to promote a workplace where every individual feels valued, empowered, and set up for long-term success. Join us to unlock the potential of a truly inclusive work environment. 
Key points you will learn:
Understand the nuances of attracting a diverse talent pool and implementing unbiased hiring processes.

 

Gain insights into shaping a workplace environment where every individual feels valued, heard, and respected, thereby promoting a sense of belonging.

 

Grasp the importance of equitable practices in promotions, compensations, and opportunities, which play a pivotal role in retaining a diverse team.

 

Discover how to prepare current and upcoming leaders to be inclusive, empathetic, and effective in managing diverse teams.

 

Learn tools and metrics to assess and continuously improve the impact of DEI initiatives on organizational success and employee satisfaction.

 
---
Free for CODE Coalition Members*
Free for Food and Beverage Members and Partners*
Discounted Chamber Member Rate: $25 +GST
Regular Rate: $50 +GST 
*Discount codes have been sent to your organization leads. If you are a CODE Coalition Member or a Food and Beverage member requesting the discount code, please email [email protected].  
To learn more about the benefits of a Chamber membership, including discounted ticket rates click here.
---
WHAT YOU SHOULD KNOW
Accessibility: We strive to host inclusive, accessible events that enable all individuals to engage fully. If you require accommodation please let us know when purchasing tickets.
Refund Policy: Refunds will only be issued with a minimum of 72 hours of notice before the event. Should you require a change of your ticket after that time, we kindly ask that you find a replacement for your ticket. If you have further questions, please direct them to [email protected]
ABOUT THE KEYNOTE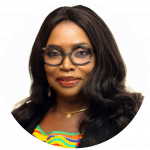 Juanita DeSouza-Huletey is a highly accomplished professional with a diverse range of expertise, a remarkable leader and catalyst for inclusive change. As Founder, CEO and Lead Coach of Dynamic Solutions International Inc. (DSI), she has established herself as a trailblazer in both the industry and the community. Juanita holds a master's degree from the University of Manitoba and was also a PhD candidate. She completed her undergraduate studies with Double Honors in Computer Science and Economics at the University of Ghana. Additionally, she has obtained multiple professional designations and certificates, including PMP, Change Management, Business Relationship Management and Advanced Law Enforcement Planner. Juanita is a sought-after thought leader that generously volunteers her time and is very dedicated to uplifting marginalized communities especially empowering immigrants, women, and girls in Science, Technology, Engineering, and Mathematics (STEM). She aims to challenge biases, overcome limiting factors, and create a better future for all.