This event is no longer active.
Budget & Breakfast Forum | VIRTUAL
Monday, January 10, 2022  |  8:00 a.m. – 9:30 a.m.
Free to attend
---
REGISTRATION CLOSED
---
ABOUT EVENT:
Have your voice heard on the province's upcoming spring Budget!
Join us and the Province of Manitoba's Finance Minister, Scott Fielding, on Monday, January 10 for a virtual consultation on the 2021 spring Budget. 
This is an opportunity for you to speak directly with the Finance Minister about the issues that are impacting your business or organization, and suggest ways the province can help make Manitoba a better place for investment and growth. We'll also touch on important topics like tax reform, red tape reduction, and support to help small businesses recover from the pandemic.
Interested in becoming a sponsor? Please contact: [email protected] or visit winnipeg-chamber/collaborate.
---
ABOUT OUR SPEAKER: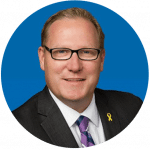 Scott Fielding was elected to his first term as MLA for Kirkfield Park on April 19, 2016 and was subsequently appointed to serve as Manitoba's Minister of Families. He has served his community as a volunteer, a business owner, and a City Councillor and is eager to put that experience to work for the constituents of Kirkfield Park as their new MLA.
Scott was elected as the representative for the St. James-Brooklands Ward on Winnipeg City Council in 2006 and re-elected in 2010. During his tenure as City Councillor, Scott also served as Chair of the Finance Committee and Chair of the Winnipeg Police Board. He was also a member of a number of committees including Property and Development, Protection and Community Services, and the Economic Opportunity Commission.
Scott has always been an active member of the community and has served on the board of various organizations including the Winnipeg Convention Centre, the Assiniboine Park Conservancy and the St. James Village Business Improvement Zone. The owner of a small management consulting business, Scott has also been an active member of the Assiniboia Chamber of Commerce.
Born and raised in Winnipeg, Scott graduated from the University of Manitoba with an Advanced Bachelor of Arts degree in Economics and Political Studies at the University of Manitoba. Scott and his wife Michelle have 3 children: daughters Paige and Brynn, and son Beck.
Scott is honoured to continue his service to the community as the MLA for Kirkfield Park.
---
Interested in becoming a sponsor? Please contact: [email protected] or visit winnipeg-chamber/collaborate.