This event is no longer active.
April Luncheon: Racial Justice is Climate Justice
Thursday, April 20, 2023  |  11:30 a.m. – 1:30 p.m.
Delta Hotel Winnipeg, 350 St. Mary Avenue
Keynote Speaker: Larissa Crawford, Founder and Managing Director of Future Ancestors Services
---
Online registration is now closed.

Please email [email protected] to check availability.

Please note, refunds will only be issued with a minimum of 72 hours of notice before the event. Should you require a change of your ticket after that time, we kindly ask that you find a replacement for your ticket. If you have further questions, please direct them to [email protected]

Discounted Member Rate: $65 +GST
Regular Rate: $130 +GST

To learn more about the benefits of a Chamber membership, including discounted ticket rates click here.
---
TITLE SPONSORS
ABOUT EVENT:
In the past two years, we have seen the inequitable impact of the global pandemic, and inequitable impacts of irreversible climate change. 
Communities of colour are often the least contributors to pollution and climate change and yet are the most impacted by its consequences. It can no longer be overlooked that climate change and racial injustice are linked and the systemic racism that influences its impacts cannot be ignored.
PROGRAM
11:30 a.m. – Registration, networking and exhibitor booths
12:00 p.m. – Program starts
12:15 p.m. – Lunch service
12:40 p.m. – Keynote Speaker
1:30 p.m. – Program ends
---
ABOUT OUR KEYNOTE: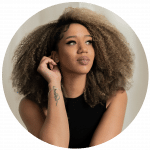 Larissa Crawford
Larissa Crawford proudly passes on Métis and Jamaican ancestry to her daughter, Zyra, and is a published Indigenous and anti-racism researcher, policy advisor, and restorative circle keeper with over 13 years of experience. Larissa is the Founder of Future Ancestors Services, a youth-led professional services social enterprise that operates at the intersection of climate and racial justice.
Larissa is is open for speaking, training, consulting, holistic organizational change, and social media contracts internationally. She can be reached at [email protected], and you can connect with her at @larissa_speaks. She is currently based in Calgary, the Traditional Territory of Blackfoot Confederacy (Siksika, Kainai, Piikani Nations), the Tsuut'ina, the Îyâxe (Stoney) Nakoda Nations, and traditional homeland of the Métis Nation, Region 3.
350 St. Mary Ave.
Grand Ballroom
Winnipeg, MB