4 minute read
What's your brand story? Who is the human behind your brand? These are all important questions business owners should be asking themselves. Our October Luncheon speaker, Liz Bertorelli, asks herself these questions every day. 
"Consumers like to see the person– they want to know the human behind the brand, the backstory of like why the brand was created and why it's an extension of them," smiled Liz.
"Putting a face to the brand name is so important. When I buy from small businesses I always click the 'about page'.  I want to know their why, who's behind it and why I'm supporting it. You don't get that kind of connection on Amazon."
Liz Bertorelli is a Toronto-based marketer, strategist, and content producer. By day she works as a Social Media Lead at TikTok Canada, and by night she works on her side business Passionfruit– an LGBTQ+ lifestyle brand.
Before TikTok, Liz began her career at Shopify seven and a half years ago and worked in every corner of the marketing department. From brand strategy to brand manager, but social media was the space where she always felt at home. She loved the mix of storytelling, photography, crisis communications, you name it– she did it. 
During her time at Shopify, she tapped into her entrepreneurial side and opened her own eCommerce store, Passionfruit– who was the official merch provider for Toronto Pride back in 2018.
---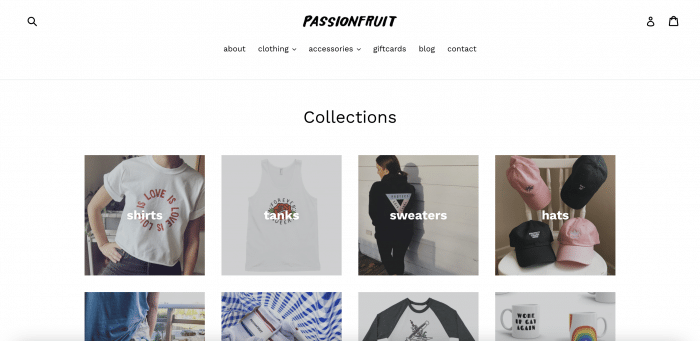 ---
"My TikTok account is named after me, it's not even titled after my business. I want people to get to know me first," said Liz. "All of the content I produce comes back to me being queer. I'm queer, this is who I am– check out my store link in my bio. Every once in a while I'll make a TikTok being like, Hey, I'm Liz I'm actually, the founder of Passionfruit, and we've been selling shirts for six years and it just blows up. People want to support the human, not just the brand."
Now as Social Media Lead at TikTok Canada, Liz is taking her experiences with her own TikTok to help other brands do the same thing.
"I've talked to so many business owners who think they need to be on every single social media platform and they do too much," said Liz. "The biggest thing I've learned over the years is fewer, bigger, better– fewer social channels, bigger presence and better content. It will go a long way."
So where do you start? How do you begin to shift from brand-focused to human-focused? At our first in-person luncheon of the season on October 22, Liz will help you do just that.
"I hope people will take what they learn from the luncheon and test and learn," said Liz. "It's not going to be perfect from the start, but you have the start somewhere. My personal brand is what I lead with, and my secondary is Passionfruit. I'm proud of who I am and the brand I've created and that's why I needed to put my face in front of it."
---
October Luncheon: The Human Behind the Brand
Friday, October 22, 2021 | 11:00 a.m. – 1:30 p.m.
RBC Convention Centre Winnipeg
Member Rate: $65 +GST
Future Member Rate: $130 +GST
Your future customer's first impression of your business is probably going to be online. Through the power of social media, you have a unique opportunity to build meaningful relationships with customers without even meeting. Liz Bertorelli, Tiktok shares the #1 rule to building those online connections: be yourself. Liz will share how you can create social media content for your business that highlights the human behind the brand.
Digital and/or physical COVID immunization card will be mandatory
at our event check-in for all Winnipeg Chamber in-person gatherings.