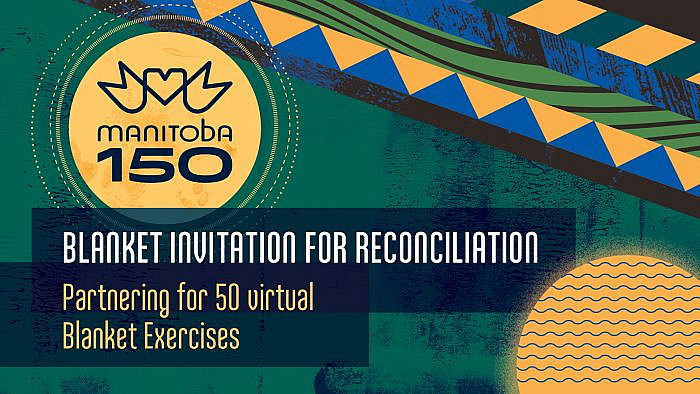 ---
This June, as we recognize National Indigenous History Month, our hearts and minds are heavy with the grief of our history of residential schools. We must look to Indigenous Elders and knowledge keepers to guide us, to ensure these tragedies are never forgotten, or repeated.
In partnership with APTN, and in honour of National Indigenous Peoples Day, Manitoba 150 is making 50 virtual Blanket Exercises available across the province. The 50 exercises will be offered through The Winnipeg Chamber of Commerce, the Manitoba Chambers of Commerce and Conseil Jeunesse Provincial.
As a result of this partnership, more facilitators will be trained in offering the virtual Blanket Exercise. We hope the professionals who attend will carry forward the momentum of reconciliation to their large networks and offer these meaningful discourses beyond Manitoba 150.
About the Blanket Exercise
The KAIROS Blanket Exercise program is a unique, participatory history lesson – developed in collaboration with Indigenous Elders, knowledge keepers and educators – that fosters truth, understanding, respect and reconciliation among Indigenous and non-indigenous peoples.
The Blanket Exercise covers more than 500 years in an experiential workshop that aims to foster understanding about our shared history as Indigenous and non-Indigenous peoples.
Everyone is actively involved as they use specific background icons that represent the various historical and current experiences of First Nations, Inuit and later Métis peoples. This program is highly regarded by Indigenous leaders across Canada and was selected for its unique and collaborative approach to fostering awareness and education.
---
Dates Available:
(All sessions are held virtually via Zoom)
Group sizes are a minimum of 15 participants
If you have questions about registration, please email Riele Bailey, Program and Events Manager at

[email protected]
---
| | |
| --- | --- |
| | In Partnership With: |
With Support From: