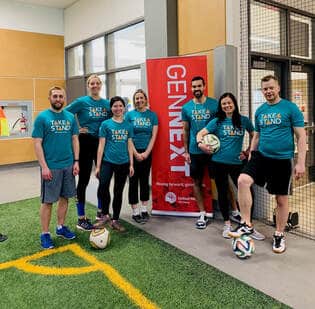 Cultivating a growing community of young leaders in Winnipeg,
United Way Winnipeg's 'GenNext'
program is a membership that any company in Winnipeg can join, and start giving back.
CWB National Leasing opened its GenNext chapter in 2014, to build on its great pre-existing relationship with United Way Winnipeg – its staff of 350 raised a total of $315,000 for United Way Winnipeg last year – and continue to encourage staff to donate their time for a good cause.
"It just seemed like a really good fit to start a chapter here, and it was, because it's been hugely successful," says Melissa Wilkinson, the co-chair of CWB National Leasing's GenNext chapter. "I feel strongly about contributing to the community and this is great way to do that within the workplace. It's a great way to find meaning in my work that goes beyond my core responsibilities, and it feels great to contribute to the community and give back with what resources I have, which is mostly time."
Through GenNext, CWB National Leasing has recently hosted a soccer game for Big Brothers Big Sisters of Winnipeg at the University of Winnipeg's Axworthy Health and RecPlex, as well as other fundraising events for organizations like Broadway Neighbourhood Centre and the Halal Food Pantry.
In addition to the work being done in support of some of Winnipeg's most worthy agencies, GenNext also provides networking and leadership opportunities that employees might otherwise not have access to.
"For me personally, it was a great way to get to know people outside of my department," Wilkinson says. "When I first joined the company, I was having a hard time getting to know people from other departments that I didn't interact with much, so it was great to get to meet some like-minded individuals. I think that was a big draw for me, while also being able to do something for the community."
Wilkinson adds that it also exposes individuals to agencies and causes that they may not have previously been aware of.
To learn more about United Way Winnipeg's 'GenNext' iniative, and how your company can open its own chapter, visit unitedwaywinnipeg.ca/gennext