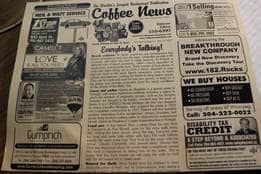 ​Whether you're sipping a hot drink at a local cafe, sitting in your dentist's office preparing your jaw to open wide, or chilling in the car wash waiting for your ride to be spic-and-span, you've likely perused a Coffee News.
Perhaps you learned about a local charity event, that the full moon is in the seventh house of your sign, or that Machu Picchu is 8000 feet above sea level.
Or maybe, you came across an advertisement for a Winnipeg business perfect for what you need in a day, in a month, or in a year – whether it be a realtor, accountant, or educator.
"The Coffee News is designed to amuse, challenge, and educate," says Alastair Gillespie, the publisher of Coffee News Winnipeg. "It has been doing that exceptionally well."
It was designed by Charleswood stay-at-home mom Jean Daum in 1988.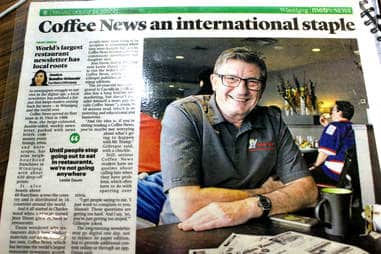 "She found herself sitting and waiting quite a lot," Gillespie says. "And realized, when you're sitting in a restaurant on your own, and people are staring at you, you're feeling a little bit awkward, and after a while, you get bored."
"Of course, this is long before days of cell phones."
If you're a Winnipegger, you've likely browsed a copy of the two-sided, tan-papered publication, masthead graced by the gleeful, waving man in a polka-dotted suit jacket and buttoned up vest.
The Coffee News will celebrate its 30th anniversary in 2018. it has not only been a pleasant read for the last three decades – it's also been an affordable advertising avenue for businesses who want to connect to their community.
"The whole idea was that local businesses could have their advertising in local restaurants," Gillespie explains. "It's a perfect match, if you think about it – so when you get locals from Charleswood, in a Charleswood restaurant, they're reading about Charleswood businesses."
The Coffee News distributes weekly to 621 businesses and has nine distribution areas. Depending on a business owner's needs, they can choose to advertise in just one zone or all nine. About one third of clients opt to go citywide.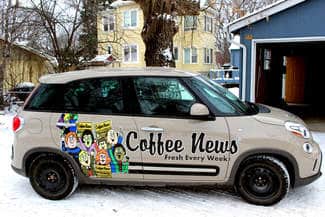 Gillespie says one of the draws to advertising in Coffee News is there's only one advertiser per category in each edition.
"If you're the hairdresser in St. Vital, you're the only hairdresser in St. Vital. The beauty of that is when people are picking up and reading it, they can read up to 32 different businesses or services that are being offered to them," Gillespie says.
People pick up the Coffee News for a variety of reasons – Gillespie says the trivia is especially popular. Some have even built rituals around their favourite sections.
One fellow would call Gillespie to ask him about the lucky numbers in the horoscope if he was going out of town and couldn't get a Coffee News.
"He always bet the Coffee News numbers," Gillespie says. "He promised me if he ever won that he would cut me in."
"He hasn't called me back," Gillespie chuckles.
Prepared for The Winnipeg Chamber by Declan Schroeder, a Red River College Creative Communications student