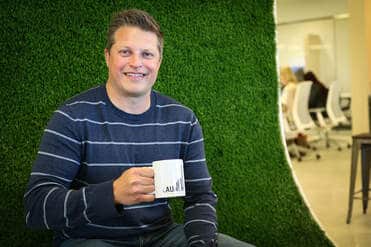 About four years ago, Winnipegger Jason Abbott was down in Phoenix, Arizona, trying to get some work done. Finding it extremely difficult to maintain his focus with two young children running around, he turned to the Internet to try to uncover a solution. What he found was CO+HOOTS, a local coworking space that not only allowed him to focus on his work when he needed to, but also connected him with some like-minded individuals to talk business with.
"Through that experience of meeting some new folks, being amongst my peers, and having the flexibility to drop in and use the space at my convenience, I came back to Winnipeg and looked for something similar here," Abbott says.
When he didn't find what he was looking for, he decided to be the solution to his problem, and in 2017 opened Launch Coworking Space. Today, Launch has more than 200 active members who call the space headquarters, from chefs and lawyers to franchises and multinational organizations.
"What we see in terms of our membership here in Winnipeg is a vast majority of folks are independently employed or self-employed, or office nomads, and are looking for an alternative to that home office or coffee shop," Abbott says. "But we also see this significant shift where technology is enabling people to work from anywhere. So people enjoy or appreciate the flexibility to work where is convenient for them to work at any time or any location.
"In Winnipeg there's still a culture of the 'come into the single location office.' But we're seeing a trend where employers are becoming far more flexible to ensure that they meet the demands or the lifestyle choices or their employees, saying, 'Hey, as long as you achieve your results, as long as you get the work done, we're not as concerned about where you're working from.' As a result, you're seeing people who are migrating to a flexible office space, and this is the one that we're offering in south Winnipeg."
Launch offers a variety of memberships, designed to accommodate the distinct time and amenity requirements of the individuals who use the space, from casual drop-in users to full-time users who have access to a dedicated desk, boardrooms, presentation space, and more.
"There's no question that what we've built here is sort of a natural marketplace in many ways, where our members come in and they'll learn that someone's an expert on search engine optimization or influencer marketing or engineering, whatever the case may be, and now they connect and talk about business," Abbott says. "Everyone's looking to compete within their industry, and this gives them that competitive advantage in a lot of ways."
Although coworking spaces are more widely accepted and established in cities like New York and San Francisco, markets like Vancouver and Toronto are leading the way in Canada, with the prairie provinces just beginning to get on board.
Launch has plans to open its second location in Winnipeg's Exchange District this year.
"We've had a vision since day one to see if we could be the preferred coworking partner on the prairies, starting here in Winnipeg," Abbott says. "We'd like to see Winnipeg have a Launch in every quadrant of the city. We think there's a great opportunity for us to become a leader on the prairies, and be a preferred workplace service provider, and that's what we're driving towards."
​
For more information on Launch Coworking, visit launch1460.ca