Do you know what's new and on-trend for Mother's Day flowers in Manitoba?
As the only farm-fresh, seasonal bouquet florist in Winnipeg, Callia Flowers stays in touch with local demand while observing national trends through their Vancouver and Edmonton businesses. Founder Catherine Metrycki intentionally built her business to be flexible to consumer trends, rotating a three bouquet offering based on what's in vogue each month.
Metrycki and the team at Callia Flowers have noticed the rise in popularity of these three trends heading up to Mother's Day 2017. Maybe it's time to give the stereotypical rose bundle a rest with a chic pick?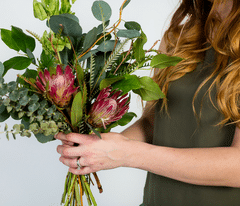 1) Greens, greens and more greens: Eucalyptus is the new trend in florals, with Pantone even choosing "greenery" as their Colour of the Year for 2017. "We've got bouquets with six different kinds of eucalyptus — did you even know there are 6 different kinds of euc?! The smell is gorgeous and calming, and they last for weeks," says Metrycki.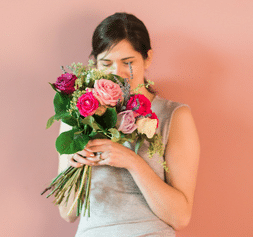 2) Unusual scents: Moms are over carnations and daisies — they want unique, sweet-smelling blooms. "We're seeing trends with stockflowers, which give off the sweetest sweet-pea like scent," says Metrycki. "We're also in love with Venetian lavender, which besides smelling amazing also lasts forever — so she can turn her bouquet into a sweet bedside or kitchen posy."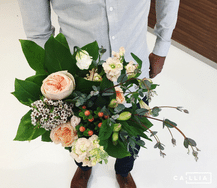 3) Hand-tied, textured garden style: Gone are the manufactured "perfect" bouquets from the last decade — it's now about fresh, hand-tied style bouquets that look like they came straight from the garden. "A mix of big blooms, sweet waxflowers and greens make these bouquets unique, edgy and looking like you picked them yourself," says Metrycki.