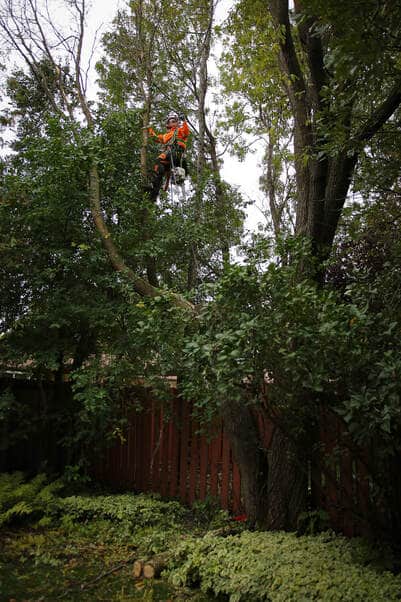 Chris Olson is the president of TNT Tree, and has a simple request for everyone living in Winnipeg.
"Plant trees."
Olson first established TNT Tree in Winnipeg in 2004, and says his business has been growing every year since then.
"Winnipeg is a good city to do trees in just because there are so many trees; it's endless work really," Olson says. "In the spring it's a lot of removals, in the fall it's a lot of maintenance; pruning, cleaning up the trees and just tidying up their yards for the winter.
"I get to work outside all of the time and I quite like that because I used to work in a factory and that wasn't so great."
After getting his Bachelor of Science degree in biology from the University of Winnipeg, Olson worked for the City of Winnipeg in insect control, before buying a local company doing tree banding and spraying. But since that work was largely seasonal, he expanded his education and his company's services to include a full range of year-round tree work.
TNT Tree now has seven employees and joined The Winnipeg Chamber of Commerce about a year ago.
"We really focus on our customers and just making them happy," Olson says of what he believes is the reason TNT Tree has been so successful. "It's little things like calling people back right away or answering the phone even, treating people's yards like they're our own, focusing on clean up, and just communication, really. It goes a long way toward making everyone comfortable and happy."
Olson's plea to Winnipeggers to plant more trees stems from the discovery of the emerald ash borer — a green jewel beetle native to north-eastern Asia that feeds on ash trees – late in 2017.
"Most people in the city are familiar with Dutch elm disease, we've had it since the 70s and it's a slow loss; maybe two to five per cent per year, a few thousand trees," Olson explains. "With the emerald ash borer, it's going to be a total different kind of infestation, we're literally going to lose 335,000 trees in 10 years, which is a third of Winnipeg's trees."
The City of Winnipeg is currently taking steps to minimize the devastation the emerald ash borer will cause, and optimize the restoration efforts that will be necessary, but Olson says everyone is capable of lending a hand.
"Call landscapers, call a tree guy like myself, we plant trees all the time. There's been a few community groups that have gotten together and planted a large number of trees; that would be something to investigate with your city councillor. Anything you can do to plant some trees is always good."
For more information on TNT Tree, visit tnttree.ca