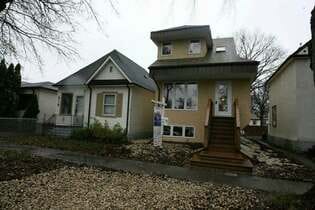 Photo by Mike Deal, Winnipeg Free Press.
The Manitoba Home Builders' Association (MHBA) is weighing in on the issue of Winnipeg's infill housing strategy – or lack thereof – saying when it comes to infill, a 'one size fits all' approach just doesn't work.
"Winnipeg has one of the oldest housing stocks in Canada," says Lanny McInnes, president and CEO of the MHBA. "In many cases, particularly in mature neighbourhoods, when a home comes up for sale, it's just not a matter of being able to renovate or retrofit the home, and the best alternative is to do a demolition and build from scratch on the existing lot. And this is not something that is going to be any less relevant moving forward."
Many residents have expressed concern and frustration, however, over the size and style of infill houses being built – in some cases a single home is replaced with two tall and narrow homes on the same lot – prompting the City to attempt to more closely regulate the specifications of homes being built on infill lots.
But McInnes warns that if the City's Planning, Property and Development Department doesn't take the time to get it right and consult with the home building industry in the process, the result could be a continued population decrease in Winnipeg's mature neighbourhoods, as residents opt instead to build in new developments.
"What this appears to be is an attempt to put guidelines in place that would provide some reassurance to concerned homeowners in neighbourhoods where they're seeing infill take place," McInnes says. "What we're hoping to achieve is really a long-term strategy on how to make infill work for those neighbourhoods. This is too important, given the state and age of the housing stock in our neighbourhoods and the growth that our city is looking to achieve over the next 20 years, to rush through without properly engaging the industry on how to do this."
And while residents in the city's mature neighbourhoods may not always be pleased with the style of homes constructed on infill lots, McInnes says having a detailed set of rules and regulations in place for each neighbourhood will at least help to lessen the element of surprise for residents, and make the process smoother overall.
"Part of the frustration is likely because of the lack of guidelines and lack of understanding of what can go where in Winnipeg's mature neighbourhoods," McInnes says. "It makes it a roll of the dice for those people who want to invest in building new infill construction in mature neighbourhoods, and at the same time doesn't really provide the home owners in that neighbourhood with any assurance of what's going to be allowed and what's not. It makes it stressful and confrontational process."
​
City planners are expected to present their proposed regulations to city council for approval later on this year.