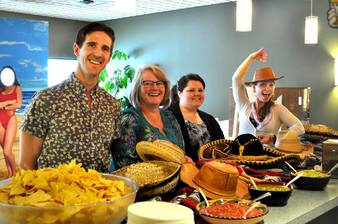 Members of the Johnston Group team brought their beach attire to work for "tropical vacation week."
Organizations are becoming more aware of the wellbeing of their employees. One Winnipeg-based company embracing this movement is Johnston Group. Matt Johnston of Johnston Group took some time to tell us how they're not only one of the largest providers of group insurance in the entire country, but they also focus on the positive experience of their clients and employees.
1. Why do you think corporate wellness is important to the operation of a modern business?
There are countless statistics tying overall wellness to imporved culture, productivity, reduced absenteeism, presenteeism, even to a reduction in disability. These are good business reasons to engage in corporate wellness. Business owners have a tremendous opportunity to help their employees recognize the value of embracing a healthier lifestyle. Employees are the most important asset of any business; we feel we have a responsibility to assure their wellbeing.
2. How did an employee benefits company like Johnston Group get interested in corporate wellness?
Wellness is a hot topic of conversation in our industry and we are seeing a lot of interest from our employees and our member companies. Alarming health statistics point to the importance of investing in the preventative side of employee health. For example, the Conference Board of Health estimates that 80% of type 2 diabetes and heart disease cases and 40% of cancer cases are linked to lifestyle behaviors that can be avoided. These are incredibly high statistics, to which we want to raise awareness. This is a big conversation and wellness is just a piece of it, but we are passionate about being a part of finding solutions.
3. Last week on our BOLD radio show you shared that your first career in sports has influenced your view on the importance of wellness in the workplace. 
Through my golf career I was able to see first-hand the type of support systems professional athletes have in place to give themselves the best chance to succeed in their careers – coaches, nutritionists, mental coaches, even financial help. And in my case, that was so I could get a golf ball in a hole! When I moved over to the business world, where most people are solving real problems, I was surprised to see the lack of wellness support available to most employees. Business is not an intramural sport – it's highly competitive and the outcomes matter. Companies, and the employees in them are solving real world problems, and in the end, supporting families. So we think it's important to continue to discover and develop new ways to invest in the wellness of those employees.
​4. Do you think 'wellness' is a trend or is it here to stay?
Although wellness has become a current buzzword, we certainly don't think it's just a trend. We are all hearing about the new demands "Millennials" (I am one) are bringing to the workforce. We think it's encouraging that this younger generation is helping to create more awareness around topics like wellness. With that said, we have five generation in our office that are all contributing to this conversation.
We are being mindful of the fact that wellness is a broad term and means different things to different people. I think the stories of the progressive workplaces like Google and Facebook have created a misinterpretation for some people that great wellness programs mean beanbags and free Kombucha. Although these are nice perks, they alone are not a wellness solution. As we develop our internal programs at Johnston Group we think it's important to take a holistic approach, focusing on the whole health of a person, including the support of the emotional, mental and even spiritual health of our employees. With approximately two-thirds of disability claims in Canada related to mental illness and addiction, we believe we need the focus to evolve from the traditional boundaries of just looking at physical health to a broader definition of wellness. It is an enormous field and there are no quick, easy fixes. Whatever we label it moving forward – "wellness", "prevention", "engagement", we are just scratching the surface of this discussion.
​
5. What company do you see as the model for wellness?
There are many companies doing great things, although it's important to remember that no organization is perfect. Businesses are made of people and we are complex! I worked in the startup ecosystem of Silicon Valley for a few years, so many of my friends were working at companies like Google and Dropbox. These companies put a lot of thought into wellness, offering everything from free healthy food to mindfulness rooms, and even free access to life and business coaches. Although some of the perks seem a little over the top and are part of the Silicon Valley folklore (scooters in the office might not make it as a requirement for a wellness initiative), it was interesting and inspiring to see how thoughtful some of these companies are in their approach.
I am fascinated by a manufacturing company based in St. Louis called Barry Wehmiller. They have created a leadership institute around a philosophy called 'Truly Human Leadership'. One of their recent blogs said, "As Truly Human Leaders, it is our responsibility not only to be stewards of the lives entrusted to us every day, but also to support each team member's wellbeing and that of those they love." As our team begins down this road, we think that's a pretty inspiring ideal to try to uphold.
For more information on Johnston Group and their services, visit http://johnstongroup.ca/ or connect on Facebook.