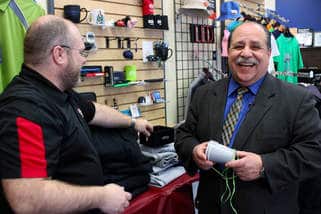 ​Art Alexander, owner of Instant Imprints St. Vital, prides himself on his ability to help build community.
"If I can help you get what you want – more visibility – then eventually I'll get what we want," Alexander says. "Which is more products, more sales, and more relationships."
He says these relationships are key to setting his location apart from the other stores that provide branded merchandise, commercial printing and design support across Canada.
A focus on community instead of money builds the local economy, Alexander says, even if that literally means driving the extra mile to make it happen.
"Our client needed something that didn't come on time so I drove to Brandon from Winnipeg and brought the stuff to him," Alexander says. "We try to make it happen as best we can."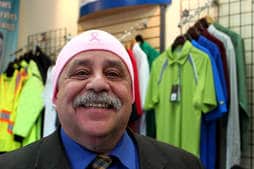 Alexander also directly supports the community, fundraising with products he produces himself in the store. Bright toques with pink ribbons on them quickly catch customers' eyes when they walk into the1121 St. Mary's Road location; Alexander sells them for five dollars with proceeds going to CancerCare Manitoba.
"We've all had people who we've lost to cancer," Alexander says, slipping one of the toques on for a photo.
The products in his store also help support people in their private fundraising goals. Shirts made at his location have helped Winnipeggers in their personal campaigns to support disease research or fund trips to volunteer internationally.