Nestled near the corner of Portage and Main, The Winnipeg Chamber of Commerce's floor to ceiling windows are now an art display as part of Nuit Blanche– How Do You See Me?- Bias Outside the Box (BOB)
---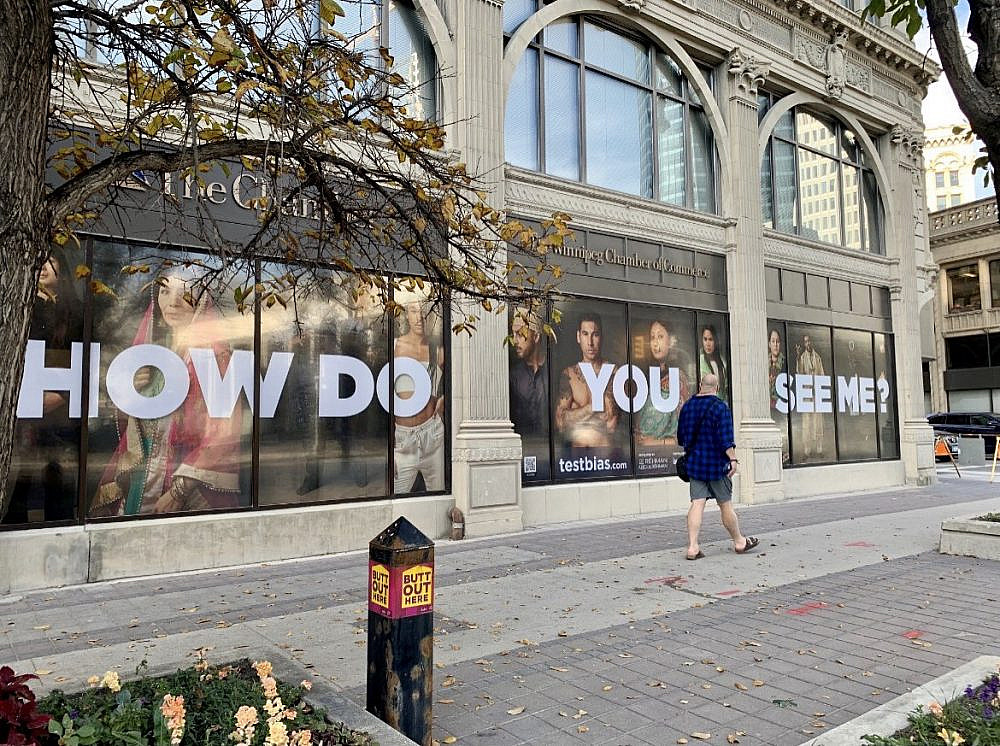 ---
BOB is an Illuminate the Night photography installation by clinical psychologist, Dr. Rehman Abdulrehman, and photographer, Ian McCausland, that is on display at multiple locations, including the Winnipeg Chamber of Commerce.
Dr. Rehman Abdulrehman created BOB to help people realize and acknowledge their unconscious bias. 
"I am a consulting and clinical psychologist who works in the area of unconscious bias. I have found most well-meaning people have bias, but can't identify it, or are too threatened to identify it," said Dr. Abdulrehman.
"Identifying bias is critical to creating more insight and the ability to resolve racism and anti-racism."
Which person has tattoos? Which person is an executive leader? Which person struggled with homelessness and drug addiction? Participants are asked a series of questions and are expected to answer on instinct alone. The answer may not seem obvious, but that's the reason behind this tool. To test your unconscious bias.  
"Being able to use the Bias Outside the Box tool can be a private journey and conversation people can have with themselves to ensure they are doing the work to address their own biases. It also allows us to collect data anonymously to learn more about bias in our society. But rather than the tool be overly academic, I knew there needed to be a visual component to it, and that is where I enlisted the help of Winnipeg photographer, Ian MacCausland, for his incredible portrait skills."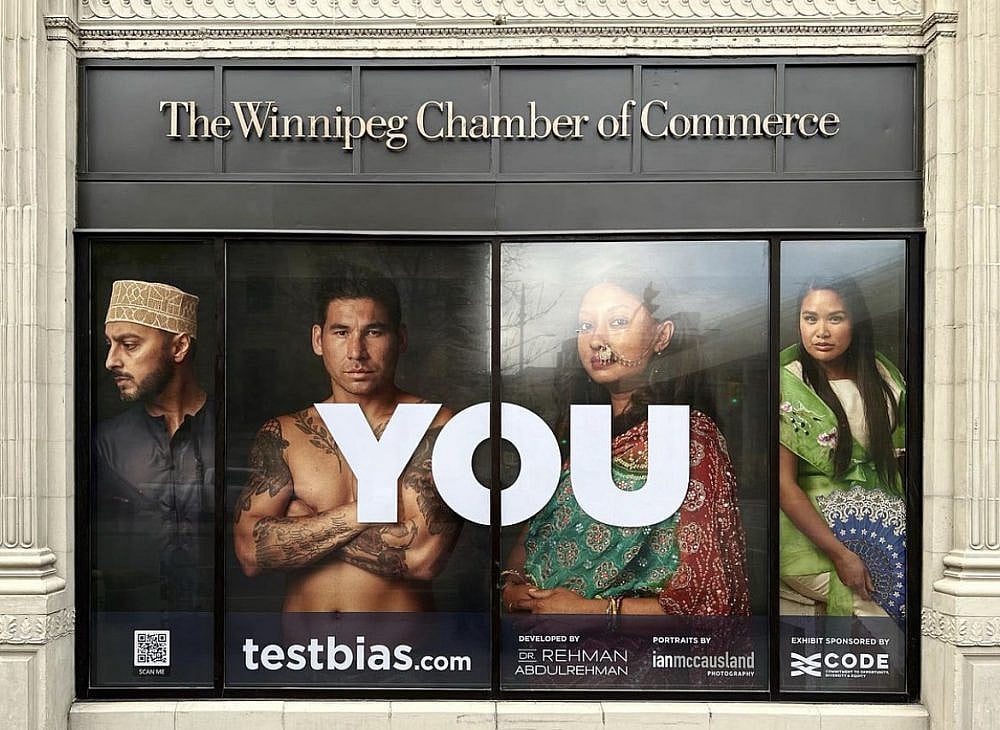 The display has been up for a couple of weeks now and the response has been incredible and far more than Dr. Rehman had ever expected. 
"We have had almost 2000 respondents in only a matter of a few weeks. Most people have found the tool to be very informative to themselves, even if it has made some feel uncomfortable. But they have valued being able to see their biases, allowing themselves to work on correcting not just information they had wrong, but how to start to see the world in a more inclusive way."
This installation is placed throughout Winnipeg on 4 different displays for Nuit Blanche. The test is there for people who are willing to confront and acknowledge their unconscious bias, but unfortunately, it won't work for those who are trying to cheat and beat the test. 
"For a city once dubbed the most racist city in Winnipeg, paying attention to our biases, is just one step toward making Winnipeg one of the more inclusive cities in Canada."
"The greatest outcome for me is to move the needle a considerable amount when it comes to making Winnipeg more inclusive and addressing the problem of racism. Sometimes we need to look in the mirror and find a safe and non-judgmental way to do that, to take responsibility for our role in what negatively impacts others. This tool allows people to do that, safely, and in an impactful way."
---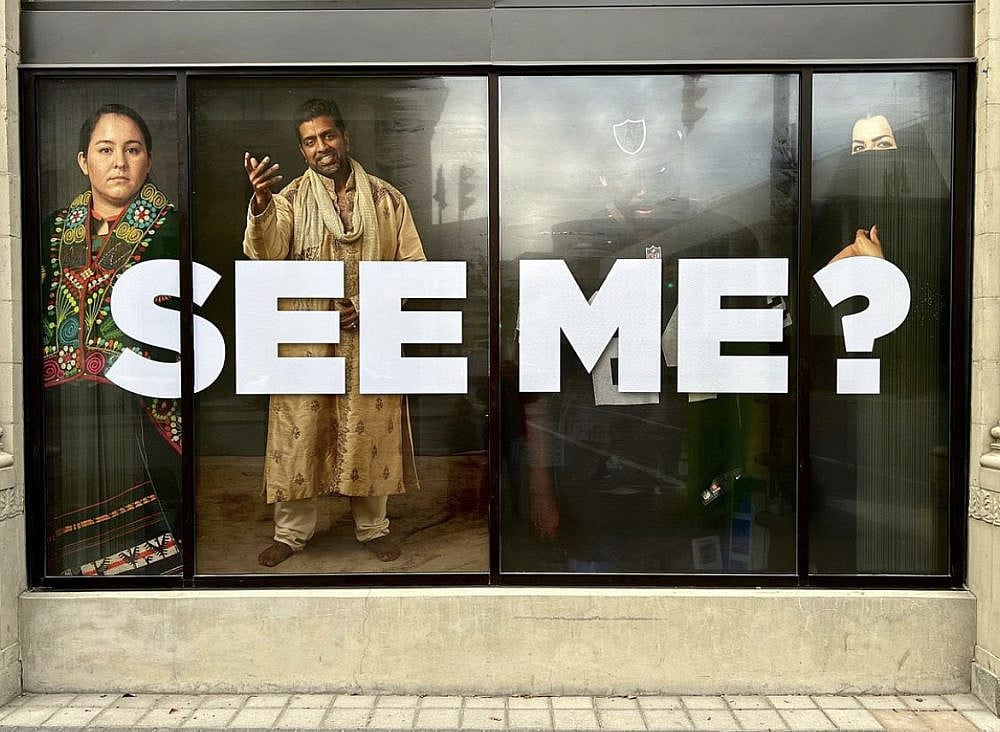 ---
Join us for our January luncheon with Dr. Rehman Abdulrehman on belonging and mental health. 
The long-term implications of the pandemic on mental health is unmeasurable. The need for belonging and connection, especially in the workplace, is as strong as it's ever been. How can you as a leader foster a safe space for your people where they feel valued, healthy and at their best? During this talk, Dr. Rehman Abdulrehman will walk you through how you can lead your team with true inclusive leadership.
January Luncheon: Belonging and Mental Health
Thursday, January 20, 2022  |  11:00 a.m. – 1:30 p.m.
Fairmont Winnipeg

Member Rate: $60 +GST
Future Member Rate: $120 +GST