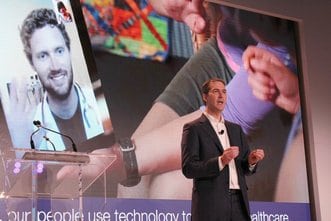 The Winnipeg Chamber of Commerce was pleased to join many member charities and non-profits on February 28 at the launch of the TELUS Manitoba Community Board – the philanthropic board comprised of community members and TELUS leaders who'll help direct part of the company's $1-million investment in Manitoba causes over 2017.
"We give where we live," said Josh Blair, Executive Vice-President of TELUS Health and President, TELUS Business Solutions West, as he outlined the key values that direct the company's support of health, environmental and youth causes.
The Manitoba Community Board joins 17 other TELUS boards (12 national, 5 international) directing support toward grassroots organizations, with project grants ranging from a few hundred to $20,000.
David Johnston (Chair), retired President and COO, Great-West Life
Ida Albo, Managing Partner, Fort Garry Hotel and Owner of Yoga Public
Gail Asper, President, The Asper Foundation
Dr. Gervan Fearon, President, Brandon University
Rick Frost, CEO, The Winnipeg Foundation
Annitta Stenning, President and CEO, CancerCare Manitoba Foundation
Brent Allison, Vice-President of Partner Solutions Sales & Marketing TELUS
Ian Bacque, Government Relations Director TELUS
Ian Fish, Vice-President Market Development, Ontario and Western Canada TELUS
Karima Penman, Senior Legal Counsel, TELUS
Christi Cruz, Senior Manager Community Affairs, TELUS
| | |
| --- | --- |
| | Chair David Johnston encouraged Manitoba organizations to connect with Christi Cruz – who'll help charities and non-profits develop their applications – before inviting the first group of funded organizations on stage. |