First, this is a busy, hands-on program. The thirty students who've enrolled at the centre to pick up valuable metal fabrication skills are striding purposefully between machines to keep up with their assignments. "We have things set up to simulate a real work environment," says general manager Scot Taylor. "They're practicing the craft all day to figure out what their niche is…"
Second, there's a positivity in the space that complements the purposeful hum of activity. The few instructors provide steady streams of advice from over their pupils' shoulders while other students examine each others' work with compliments and pointers.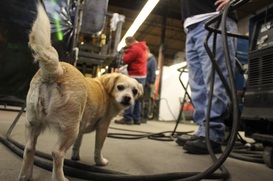 Located on King Edward Street, WISTC is a second chance for most of the adults who arrive for its 24 week-long program. The 34 year old centre only accepts students who are unemployed and on some form of EI. After brief theory and days perfecting their skills, enrollees are put in practicum job placements while instructors leverage their industry connections to find full-time, permanent work for grads.
"I've seen more than one student come in to say 'I've just found employment' and they've got tears in their eyes, they're so happy and excited," says Taylor, who says the success rate of the program orbits around 80 per cent depending on the strength of the economy. "Just the other day, we had a former student come in who had graduated the program 16 years ago, is still in the metal industry and still pops in to say hello."
The bulk of WITSC's funding is secured through Manitoba Education and Training due to the impact the centre has on students' live and the skilled labour supply in Winnipeg. The rest is made up through sales of production work, as students complete orders for companies who've subcontracted to the centre.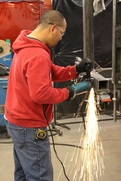 For businesses who want to support the centre and hire skilled labour, WISTC Board Chair John Kell has a simple message: "Give us a call. Phone the centre and find out about hiring our students. Talk to our staff, they're world class in the industry and they will give you the lowdown on everything you need to know about our students."
Listen to the full interview with GM Scot Taylor and Board Chair John Kell below. You can contact WITSC by calling (204) 783-7031 or visiting them at 903 King Edward Street.