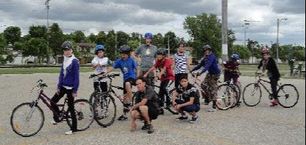 It's time to think about social enterprise – about tackling social issues, raising visibility, engaging new donors and (while at the same time) creating new ways to meet your organization's revenue goals. The Charitable sector needs to diversify its funding sources and think of creative, innovative strategies to generate more revenue. Social enterprise is one option.
WRENCH is a great example of an organization who does this well.  On the surface, they look like a place that fixes bikes but they're much deeper than that – they tackle several social issues. They teach kids a valuable skill – how to fix bicycles. They provide the kids in their program develop a sense of ownership and helps them to gain a greater respect and appreciation for their community around them. Their program promotes bike recycling and bike use, increasing sustainability and the bike culture in the city.  They provide a safe place for kids to gather, to interact with volunteers, be mentored and to see the impact of their hard work. It is an inspiring place. I encourage you to visit them and when you're looking for a new bike, buy from them and support their valuable work.
Marymound and L'Arche are other great examples of creative and social enterprise. They've created businesses and new revenue streams, while engaging new donor (or customer) audiences. Maymound has started a catering  company that is teaching business,  cooking  and presentation skills to young people in its programs. Under the direction of a chef, these kids are learning how to cater events, providing them with employment options for their future.  L'Arche Winnipeg has the delicious Tova Cafe, serving great food and providing work experience to people with disabilities.  The café also encourages its customers to interact with and get to know a person with a disability, to demonstrate social responsibility, and ultimately to build a more compassionate society. Both are excellent options for your organizations next event catering needs!
In addition to our province being known as the most generous in the country, we are also known for entrepreneurial  spirit. WRENCH, Marymound and L'Arche are examples of how these, when mixed with creativity and innovation, make an inspirational combination.  ​