​When Lisa Hirayama was a child, she watched her grandmother sit in isolation from the rest of her family, cut off from conversation by hearing loss. When she visited her home for Christmas dinners, the only moments of clear connection were found sneaking into a bedroom away from family noise.
"There she would be with her big headphones on, jacked into her TV," says Lisa. "She was stuck there."
The pain of seeing her grandmother disconnected from her family planted the seed that developed into a career in audiology. In 2002, she opened Lisa Reid Audiology in Winnipeg with her husband, Brennan Hirayama.
From the front desk staff who greet guests to the clinicians who assess them, Lisa says her team works hard to keep the atmosphere in the hearing centre relaxed.
"We want our family to look after your family," Lisa says.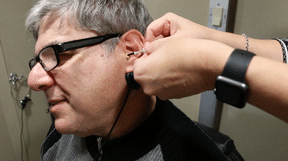 When a new patient visits the clinic, Lisa gathers their health history then proceeds to a series of hearing tests. A wand is inserted into the ear that sends vibrations into the canal and to the ear drum. There is also an in-depth hearing test that involves Lisa reading words to the patient while they sit in a sound-proof booth.
Results can point to anything from mild damage to life-threatening illness. One very memorable patient was a gentleman who wasn't able to hear evenly through both of his ears.
"The brain likes balance," Lisa explains, "usually our hearing is the same on both sides."
The patient was experiencing asymmetrical hearing loss, and to get to the bottom of why it was happening to him, she sent him for further testing – tests that uncovered a brain tumor growing on the same side he was having trouble hearing. He was able to get it removed.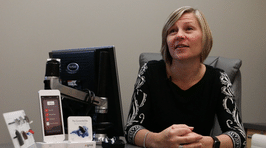 "That was great to be able to help him medically that way," says Lisa, who says hearing problems can stem from health issues throughout our body.
This is the kind of personal experience Lisa sets out to give to all of the centre's guests by providing "an alternative to cookie-cutter medical care" one might receive at a big-box store.
"Communication is a gift," says Lisa, "and we like to keep people connected."
Prepared for The Winnipeg Chamber by
Jess Seburn
a Creative Communications student at Red River College