To help get ready for our November Luncheon, How Lyft can Drive Winnipeg's Economy, we asked Joseph Okpaku, VP of Government Relations 5 questions. Scroll down to find out what Lyft's all about.
How have you seen Lyft change cities?
Lyft was founded with the mission of making car ownership optional. To date, 250,000 Lyft passengers reported giving up their cars and we estimate that number will reach 1 million by the end of 2019. But Lyft's impact goes beyond taking cars off the road. Consider this: 88 percent of passengers tell us they choose Lyft after drinking alcohol and 72 percent say they go out more or stay out longer because of Lyft — leading to safer roads and a stronger economy locally. In fact,  Lyft resulted in $2 billion of additional spending at local businesses and services in 2017.
What differentiates Lyft from other ride sharing apps?
Lyft stands apart for several reasons. We were the first to offer driver tips ($350M in tips earned by drivers to date). Passengers can select various local and national or global charities to round up and donate their ride fare to. And all of Lyft's rides and operations are now carbon-neutral.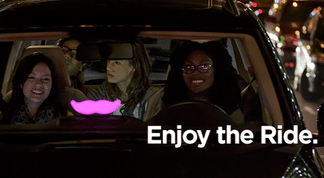 Can you tell us a little bit about how Lyft encourages 'shared rides'?
Currently, 30 percent of Lyft rides are shared and we have set a goal to raise that to 50 percent by the end of 2020. At first, many people thought that shared rides would never catch on, but we now believe we can reach this ambitious goal as more and more passengers discover the cost savings associated with sharing — especially as we make shared rides available in more cities.
Currently Lyft operates in one Canadian province, how are your expansion plans unfolding?
Lyft may be new to Canada, but Lyft isn't new to Canadians. Many have experienced Lyft while visiting the US and as we look to expand in Canada we are taking advantage of the opportunity to introduce ourselves to more Canadians and explain how Lyft can be beneficial in their communities. We are making progress with governments and hope to be available in Manitoba and other provinces soon.
How do you plan to get around in Winnipeg?
I'll use the most convenient and cost effective means of transportation available. ​
---
November Luncheon:
​How Lyft Can Drive Winnipeg's Economy

Monday, November 19

​11:30 am – 1:30 pm

Canadian Museum for Human Rights

Member rate: 1 seat – $55 +GST
Future member rate: 1 seat – $110 +GST