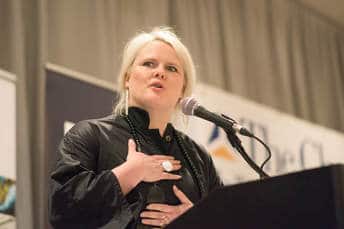 What's your business background?
I'm a founding partner of
5468796 Architecture
and have been running the firm for the past ten years. In addition to The Chamber, I am currently also a member of EO.
How and why have you been involved in The Chamber?
I observed the great work that The Chamber has been doing in our community from both the perspective of independent businesses, and for general prosperity of our city and wanted to be part of it. The Chamber to me is the modern Agora or the Forum where important conversations happen and new connections are made. It's an incubator for new ideas.
What's the one thing everyone needs to know about The Chamber?
That business prosperity is not in conflict with community prosperity, but the two go hand in hand. The Chamber is a place where this principle is evident and demonstrated every day.
What's the best business advice you've ever received?
There are parts of every business owner's job that we do not enjoy or aren't passionate about. For any one of those jobs, there is someone out there that loves that area or task. Hire them. They will do twice the job that you are doing because they live and breathe it, and you can focus on and excel at the things you are great at.
What would people be surprised to learn about you?
At 18, I spent my first year in Canada in rural Manitoba, in a tiny town of 8 people… I learned a whole lot about farming, played broom ball and was a regular at local socials. So while I'm a city girl through and through, an urbanist and a downtown advocate now, I get and appreciate the hardiness of Manitoba country folk!
What's your favorite thing about Winnipeg?
Winnipeg is a city where, with effort and sweat equity, it is possible to make almost anything happen. To me, Winnipeg is a city of unlimited opportunity.
What are you looking forward to most about your year as Chair?
I am looking forward to furthering The Chamber's mission into areas and fields where it perhaps has not yet found its way. Making these new connections represents untapped potential, and can become a frontier for fresh ideas.
Tea or coffee?
Depends on the occasion, I drink both on a regular basis.
Cats or dogs?
I even killed my house plants…. so neither [although I like both and find French Bulldogs in particular: absolutely adorable].
Top movie of all time?
Ugh, I can't answer this with a single movie. I love movies about powerful human stories, and believe that big budget Hollywood productions are not required to tell a great story and to deal with the complexity and quirkiness of people and their relationships.
Stuck on an island, what are your three must-haves?
Assuming food, water and shelter are taken care of, I'd bring a set of LEGOs, a sketch/note book + pen and a great pair of shoes [preferably several]!
Winnipeg's best-kept secret?
Its gritty, creative underbelly… groups and individuals in the arts, music, design, architecture, and culinary scene that can make your visit or everyday experience second to none.
My BOLD idea..
Is to take stock of our existing assets and learn to use them effectively – as an example from the world of architecture: 'the greenest building in the world is one that already exists'.