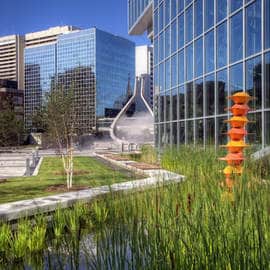 1. Introduce your organization  
HTFC is a community oriented landscape architecture and planning firm working in the prairies, boreal forest and arctic regions of Canada. Our diverse team of professionals specializes in regional and community planning, landscape architecture, environmental planning, Indigenous planning, urban design and cultural resource management.
Our multi-disciplinary approach and ability to thoughtfully tune-in to the essence of place has allowed us to practice across an uncommonly broad range of scales and landscape types. Past projects range in scale from museum display cases to regions the size of Scotland. Our portfolio includes many of the city's top attractions: The Forks National Historic site, Oodena Celebration Circle, Leo Mol Sculpture Garden, FortWhyte Alive, Upper Fort Garry Provincial Park, Millennium Library Park, Manitoba Hydro Plaza and the forthcoming Diversity Gardens at Assiniboine Park.
Founded on a deep understanding of natural landscapes, cultural heritage and evolving contemporary needs, we strive to support our clients, build local capacity, and engage in respectful processes.
2. What are 3 innovative projects your organization does that contributes to the health and wellness of our city.  
Millennium Library Park
The Millennium Library Park has received multiple awards, including the Premier's Design Award of Excellence for Landscape Architecture in 2015, and a National Award of Excellence from the Canadian Society of Landscape Architects. Since opening, the park has become a magnet for locals and tourists  looking to stroll, lounge in the sun, hunt for critters in the urban wetland, or take in some noon hour yoga. The park's success as a people place is largely attributable to the great partnerships HTFC forged early in the planning process, as well as careful attention to people's needs for comfort, delight and security, infused with vibrant public art and programming that has become self perpetuating. The result is a model for collaborative, people-centred urban design.
Youth Studio
In May and June of this year, HTFC Planning & Design presented a first-of-its-kind YouthStudio programme. YouthStudio 2018 brought together 30 local middle school students from the Daniel McIntyre neighbourhood to learn the ins and outs of designing for their community. Over two days, the students heard from a diverse mix of experts in city planning, urban agriculture, accessibility and inclusive design, neighbourhood development, place-making and public art.  They combined this learning with their own experiences to design and build a temporary installation on an under-utilized parcel of land along Cumberland Avenue. This pilot project aims to empower local youth, encourage engagement with public spaces and inspire the next generation of designers and community leaders.  On June 11, the students will present their design concept to the City of Winnipeg's Committee on Innovation with a future date to build and celebrate.  Our intent is to make YouthStudio an annual event.
East Exchange Revitalization
Over the last 5 years, WSP, HTFC, and MCW/AGE have collaborated on the complete redevelopment of several streets in the East Exchange based on a planning framework they prepared for Public Works and CentreVenture in 2013. That study recommended borrowing space from the roadway to create more generous, safe and accessible sidewalks that would not only enhance the walking environment, but support commercial and residential development, heritage interpretation and public programming. The new streetscape system achieves a contemporary look and feel that remains rooted in the industrial heritage of the district, peppered with public art that helps make that connection. Feedback from residents, businesses, and politicians has been very positive, and once dead corridors like Elgin St. now have a vibrant second life for cultural seekers, street markets, historical tours and performances. This would not have been possible without the innovative partnership between CentreVenture, Public Works, Winnipeg Arts Council, public utilities and the development community that allowed us to serve public and private interests simultaneously.
 3. What impact have you witnessed (tell a story).
​We are often hired by Indigenous communities to give technical and strategic support as they manage their lands and build their communities.  Through community-based research, traditional knowledge studies and collaborative writing, we've helped communities present their knowledge and perspectives in ways that influence decision-making.  Indigenous communities are becoming a force in environmental assessment, land management, and urban design.  We're excited to support community champions in raising their voices and having a greater say in what happens at the city and provincial level.
​4. Moment when you realized how significant your actions are?
Not sure we are there yet, but we have noticed a strong upswing in name recognition and positive comments on the work we are doing in the community these last two years, with things like the monthly Duets series in the Free Press, and YouthStudio. The real test will be when our outreach activities start influencing decisions and actions.
5. What does Winnipeg mean to you?
​Winnipeg is our home – it is where we dwell. We have no branch offices. We are inspired by the diversity, the pace, the seasons, the generosity, and the quiet pride that is brewing in light of our renaissance of design and creativity. We always knew we were onto something by living here; it is gratifying to see others now agree.