FASTCHECK specializes in providing mobile and in office cost-effective fingerprint based Criminal Background Checks to address the clear and ever-growing security needs of the private, public and government sectors.
We sat down with FASTCHECK's president, Neil Murray, for a Q&A. Scroll down for more!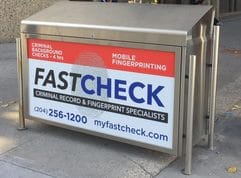 1. What does your business do?
We are an RCMP accredited fingerprinting business looking after all non-criminal fingerprinting some examples include:
Citizenship
Permanent Resident
Federal government employees and contractors – DCN (Document Control Number)
Visa
Adoption
Pardons, etc.
Mobile fingerprinting for businesses Appointment based In-office fingerprinting
FBI fingerprinting
Name and date of birth
criminal background checks
2. How many years have you been in business?
FASTCHECK has been in business for 4 years, it is an operating arm of NRM Telecom Solutions Inc., in business for 12 years.
3. What sets your organization apart from others in your industry?
Our relationship with our clients. We work hard to always meet their needs through our flexibility and mobile services.
4. What's your favourite thing to do (or place to visit) in Winnipeg?
Spending time with my grandchildren and children! Always an adventure whether I'm taking them to the zoo, hockey, swimming, fishing, etc. – Winnipeg has so much to explore! And, let's not forget the JETS! Love watching and attending their games!
5.What question are you asked most frequently by clients and prospects?
Are you RCMP accredited?
6.Why did you join The Winnipeg Chamber? As someone doing business in Winnipeg, how can we help you?
The opportunity to network with other businesses located in and around Winnipeg, with the chance to expose our business to clients that may need our services or us theirs.
7.What's your best piece of business advice?
My best piece of business advice is to be open, honest and transparent in all business dealings involving yourself in and outside of the workplace.
8.What's your best business success story?
Our best business success story is not just one! It's our success in building relationships one person and one business at a time! We have enjoyed meeting so many new people along the way whether they come to our office or we attend their office, everyone has a unique story to tell and we are honoured they choose us to share it with.