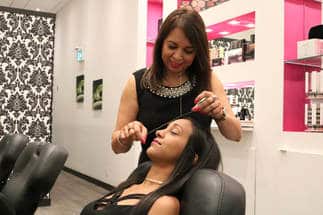 ​1) What does your business do?
We specialize in brow threading by creating the ultimate beauty in your brows & giving your skin a flawless look by using professional high quality make up products. Our company just launched our very own organic skin care line called Bellanika manufactured in Canada, cruelty free and packaged in recycled containers. We also have our very own professional high quality make up line called Bellaneesha.
2) How many years have you been in business?
We have been in the beauty industry for over 20 years. We started with Sahara Hair, Nails & Beauty, then Sahara Oasis Spa and now Fashion Brows located in all the major malls in Winnipeg. ​
3) What sets your organization apart from others in your industry?
We were the first to introduce eyebrow threading in Winnipeg. Our reputation is built on our amazing quality of work and excellent customer service. ​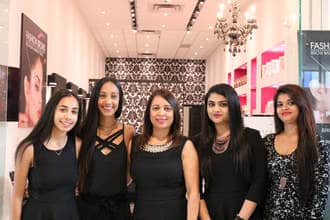 4) What's your favourite thing to do (or place to visit) in Winnipeg?
I enjoy being outside surrounded by nature, going to different parks and viewing beautiful scenery in Winnipeg.
5) Why did you join The Winnipeg Chamber?
I joined Winnipeg Chamber of Commerce to connect with other business members, share ideas and gain exposure for Fashion Brows.
6) What's your best piece of business advice?
If you work hard and love what you do, success will come to you. Chasing money or success doesn't guarantee anything, but if you are passionate about what you are doing you will be successful. ​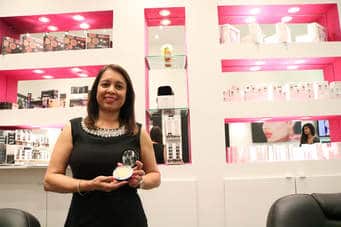 7) What's your best business success story?
I started my business from home as a new mom and decided to expand to a store once I started getting more clients. One location turned into 7 in the next ten years. I take pride in my stores and fully invest in every step of the way- from construction to design and merchandise. Now coming up with my own skin care and make up line is a dream come true.
8) Any other tidbits that you'd like to share?
Along with my business I am actively involved in the community and volunteer and organizing multiple events. I received a certificate of recognition in 2017 for outstanding contribution to the community in Winnipeg. I also  served as a chair person for Punjab pavilion Folkorama, board of directors for Punjab Cultural Centre, radio & tv host, was a jury member for South Asian beauty pageant in Toronto, and am  founder of Miss & Mrs Punjaban Winnipeg.