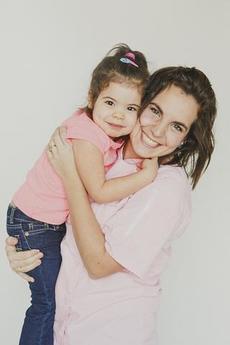 What started as small craft sales and the odd birthday cake to help stay-at-home mom Cori Poon earn some income has morphed into a runaway success. sweet C Bakery is known (and sought after) around the world for their Candy Sushi as well as their chocolate covered Oreos and their glamorous dessert buffets.
We sweet talked Cori into eight quick questions, covering her bakery's rise and why she's an avid supporter of other Winnipeg entrepreneurs.
The Winnipeg Chamber: What's your favourite treat you make?
​
Cori Poon: To be honest I love making new treats.  It's when I get to be creative and explore new boundaries. I love creating new ideas and new items the bakery world has never seen before. I absolutely love doing anything with fresh fruit – cupcakes, cookies, tarts, anything!!!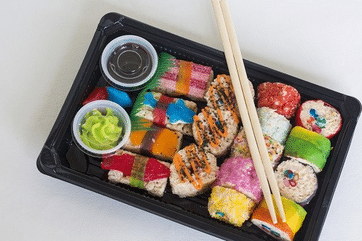 WC: Where did the inspiration come from for candy sushi?
​
CP: It came from my very first dessert table. I met a client looking for something different for her son's Bar Mitzvah. I asked her to give me some time and I would create an amazing inspiration board for what I was thinking. Candy sushi was on it and they fell in love with the idea. So we made platters of it and saw how excited everyone was. Young, old and in between everyone loved this idea.  So we decided to market it and sell it at our farmers markets.  We had no idea four years later it would be shipped worldwide and sold in stores across North America.  I didn't come up with the concept – I'm just the first to market it!
WC: How did you get into the business?
CP: I was a entrepreneur long before sweet C bakery came along.  I grew up on a farm six hours north of Winnipeg and my parents didn't have a lot of money. They told us that if we wanted anything we had to work and pay for it ourselves.
So at 12 years old I started selling baking at the local farmers market where my parents sold vegetables and during the summer I would enter baking in the local fair contests and win prize money.  This was where my passion always was – little did I know.
Fast forward to 2011 when my husband and I had our first child. It was important to me to be a stay-at-home mom to raise our kids.  After my mat leave ended, money got tight. Our debit card was declined for a $7 pillowcase I wanted to buy for my daughter… so sweet C bakery was born. It was literally just a way to help make ends meet. If it paid for some groceries or some bills then perfect, however my parents told me to never settle. Always strive and try and do more.
In 2010 my dad passed away from a three month battle with pancreatic cancer (he had just turned 48), so it showed us life is short.  He made us promise him to not live with regrets, so I don't.  There is a reason things happen and seize every opportunity. So that is what I do.  My mom always told me also: If you think small you'll be small, if you think big you'll be big and I've always thought of sweet C bakery as a global brand. I'm slowly getting there one day at time.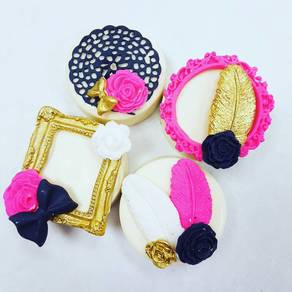 WC: What are your business goals?
CP: My goal for sweet C bakery Inc. to become one of the largest online bakeries in North America.  For my wholesale / distribution segment I want us to be recognized on the store shelves and I want sweet C bakery to be a common household product for frozen baked goods.  For my storefront division I want it to be a community place. A place where people can meet and talk and have it be like the old days.  When times were simple.  I want it to be a place where people want to drive across the city because they know they are getting amazing baked treats but also they are getting value and an experience.
WC: When did you start supporting group fundraising?
CP: I started group fundraising when I launched my line of frozen cookie dough.  This "local movement" that is happening in our society is so important.  People want more locally produced items.  They want to know where their food comes from and who made it.  What better way to find out also while giving back to the community.  I absolutely LOVE doing fundraisers.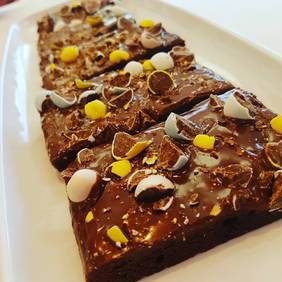 WC: You're a supporter of other Made in Manitoba products – why?
CP: There are so many amazing Manitoba made products that so many people don't know. It's partly because a lot of people shop only at large box stores or niche retailers, etc. I was once a small producer and the moment someone gave me a chance to sell in a store was the moment my business changed.  People see you differently – it's hard to explain but it's true. The moment you see that item that once dreamed of, that was once just an idea, sitting on a store shelf is a feeling no one else can give you.
I've been so fortunate to have so many people believe in me that I want to believe in other people. I was given courage and strength and the ability to take on huge risk when I opened up my store – not many people can do that. Not because they don't have courage or strength but because the opportunity or the timing may not be right now.  If I can help them bring in a bit more income and grow their business then that is what I want to do.
WC: What's the biggest challenge you've overcome as an entrepreneur?
CP: One I deal with daily: balancing mom life with business life.  In the five years I've grown sweet C bakery I've also grown my family.  I have three kids under six years old. Ensuring I make as much time with them as a mom and ensuring I don't let the bakery fall as it pays the bills is hard.  They have been around it their entire lives so they understand a lot of it and don't argue when we have to do deliveries or I have to take a conference call and I like to think I'm building little budding entrepreneurs. My daughter doesn't play house – she plays business.  She has conference calls and does emails, it's amazing.
The second biggest struggle is financing. My husband quit his full-time job two years ago to come on full time with the bakery. So when it came time to lease our space and pay for the contractor it was hard to find lenders that saw the value in two high risk people. Basically what we make as a bakery pays mortgage and stuff for us personally and everything else is recycled back into the bakery so there isn't much wiggle room.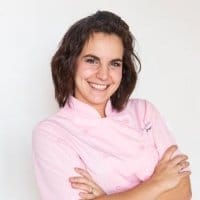 Thankfully Women's Enterprise Centre of Manitoba and Futurpreneur saw the vision and the growth of sweet C bakery and they believe in us. We will be forever grateful for that as I know it wasn't easy for them to make that decision.
WC: Why do you love what you do?
CP: I'm a mom and a business person.  I get to be at home with the kids and go to work. The hardest thing most women find that when they start to have kids is they lose themselves. They lose their identity.  They are known as "mom" and not as who they were before.
I have the best of both worlds.  I can be a face for society that shows that just because I'm a mom doesn't mean I'm not a good business woman and just because I'm a good business women doesn't mean I'm not a good mom. I get to show people you can live your dreams and if you work hard, you can reap the rewards. Days aren't easy – they are often long and very stressful most days but it is totally worth it.
​
To hear more of Cori's story, join us next Wednesday at our Get Ready to Grow Luncheon at the RBC Convention Centre. Tickets are $53 + GST (member) and $106 +GST (future members).