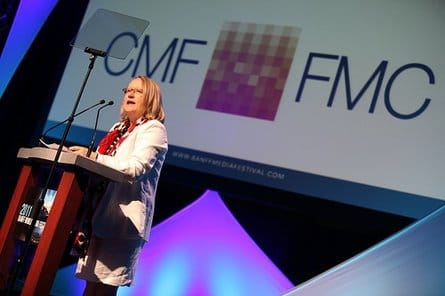 Valerie Creighton is one of the most influential people in Canadian media. As President and CEO of the Canada Media Fund, she oversees the investment of millions of dollars into cultural enterprises across the nation.
As Manitoba evaluates it's cultural priorities and policies, we've invited Valerie to speak on a strategy to grow our arts and culture sector. Here's a taste of where she thinks our province needs to go.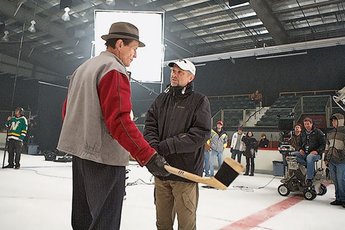 ​The Winnipeg Chamber: For those who don't know, what is the Canada Media Fund? 
Valerie Creighton: The Canada Media fund is a unique private-public partnership created to invest in television and digital media production in Canada. Through contributions by the Government of Canada and Canada's cable, satellite and IPTV distributors, the CMF develops funding programs that support the country's audiovisual production industry. Last year alone we invested over $370M in 1,270 productions, at the development, production or marketing stages. This triggered $1.4B in production activity in the country.
​The beauty of this model is in the unique partnership between the private and public sectors. For every dollar we invested last year, an additional $4 was leveraged by the private sector to create exceptional Canadian content enjoyed by audiences across the country and sold to hundreds of territories beyond our borders.
The CMF relies on market validation to ensure funding is allocated to projects that will resonate with consumers. A system has been put in place whereby Canadian broadcasters help determine which television productions are most likely to succeed. The majority of funds provided by the CMF go directly to independent producers who have received a license from broadcasters.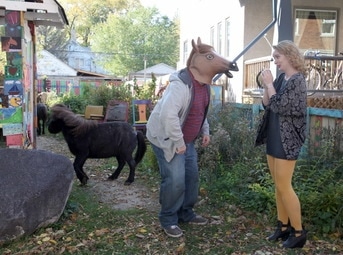 In addition to funding content, we provide research that contributes to Canada's competitive advantage.  We support and commission new research on developments impacting the television and digital media industry and we share curated research on our dedicated CMF Trends website.
The third pillar of our activities is centered on the promotion of Canadian content in Canada and abroad. We participate at international markets and help Canadian producers promote their projects at these events. Much of the work we do on this front is a collaborative effort with several Canadian funding organizations and industry associations at the national, provincial and territorial levels. Collaborating with other agencies allows us to speak with one voice to effectively leverage the "Canada brand."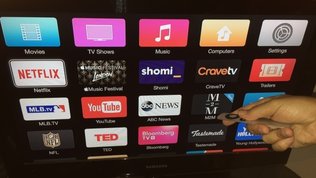 WC: Both Manitoba's government and the federal government are reviewing cultural/arts funding and policy. Do you think there's some reason cultural reviews are in vogue?
VC: It's a good question, and with the exception of the 1991 amendments to the Broadcasting Act, one not comprehensively addressed since the Massey Report on June 1, 1951. That was a year before I was born, making it 65 years ago.
So much has happened in 65 years. Especially in the last decade. In ten years we've seen the birth of the iPhone, YouTube, Facebook, Instagram and Twitter. The arrival of Netflix in Canada, and the birth of Amazon Prime and Crave. Spotify and Google Play numbers now dictate the Billboard charts. These are but a few examples of new technologies changing the cultural landscape, not just in Canada but all over the world. Technologies that allow us to not only access, but also to create content in some cases. The disruption these innovative technologies have created is unprecedented in the cultural industries. They have essentially erased boundaries, which means we are now operating in a virtually open and borderless environment.
Many believe that our current regulatory system is outdated and that the arrival of foreign OTTs in Canada has created a two-tiered system. With Netflix alone occupying 38% of Canada broadband in peak hours and others in the wings, clearly a better solution needs to be found. However, at the same time, OTTs offer a new business opportunity for Canadian content that was not available a few years ago. The question is how we integrate relatively new players into the system.
​Mélanie Joly, Minister of Canadian Heritage, often points out that Canada's cultural industries combined account for more than 600,000 jobs and generate 3 % of Canada's GDP, or $47.7 billion a year. That's double the size of Canada's agricultural, fisheries and forestry sectors combined.
​
Neglecting to review the various policies that regulate and support such vital industries would be reckless in the face of so much change and evolution in the market. That is why I fully support the cultural policy reviews undertaken by the federal government, the Government of Manitoba and other provincial governments. I look forward to the results of these reviews.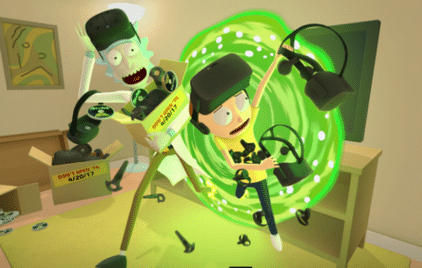 WC: What innovation have you witnessed driving the growth of Canada's cultural industries? 
VC: There is so much innovation in the cultural industries. I mentioned platforms such as Netflix, Spotify or social media. Beyond that there are new mediums we were unfamiliar with just a few years ago. Even if the technology is still quite nascent, augmented and virtual reality are catching on quickly. Technology has provided innovative options for sharing stories with audiences from all parts of the world. In this context, the Canada Media Fund made a strategic decision to invest in an ever-growing number of virtual and augmented reality projects as an important part of the funding we provide to Canadian digital media.
Canadian companies are at the forefront of digital media innovation. By way of example, Montreal is fast becoming a global centre of excellence in virtual reality, rivalling much larger production hubs around the world. Thanks to the reputation of Canadian digital media content, the expertise acquired by producers, and a funding ecosystem that supports innovation and creative storytelling, Canada is well positioned to lead in the promising virtual reality market and to respond to consumer trends.
Producers in Canada and around the world are turning to VR projects as a way to create experiences that push the limits of art and technology. Since 2012-2013, the Canada Media Fund has invested in 59 innovative VR and AR projects, totaling $24.5M in funding. Last year alone, we invested in 29 VR projects with over $11.6M in financing.
​The videogames sector is another major driver of growth and the potential is enormous for Canada. The Canadian videogame industry, one of the largest producers of video games in the world per capita, employs some 20,000 talented individuals earning on average a respectable annual salary of over $71,000 a year working in 472 studios spread across the country, which contribute $3 billion to the economy. It is an industry half the size of the one in the US, but in a country with a tenth of the population.
WC: How does Canadian audiovisual content build our brand as a country?
VC: Investing in Canadian content is not just good cultural policy. It's also good economic and foreign policy. It allows our stories to reach the world and build Canada's brand value, while bringing in billions of dollars in sales and revenue leveraged from outside the country.
The key to branding Canada is to give the world an exciting story about us. Canada has a great story to tell, of an optimistic, sophisticated, creative, multicultural, multilingual, inclusive country with extraordinary natural wonders and vibrant, cosmopolitan cities. The time is ripe for Canada to double down on this branding exercise because all the ingredients are there for Canada to shine brighter than ever before. Now is the time to build the Canada brand to its full potential. The benefits the country will draw from these efforts are immeasurable.
Canada is well–positioned to be a leading player in the world content market as we continue to combine the entrepreneurial skills of our content producers, the creativity of our artists, financial resources and supportive public policies. We are fortunate to be blessed with a wealth of creative resources and ideas. I believe that no one has a monopoly on a good idea. No one can stop an idea whose time has come. In a world driven by ideas, ingenuity and imagination, our creators are one of our greatest natural resources and clearly their time has come.
Culture is now a strategic resource that, in a global knowledge-based society, contributes enormously to the economy, both directly and indirectly. It leads to further creativity and innovation, without mentioning the countless other benefits to our society through the telling of our stories and the international projection of Canada.
​Of all the instruments of international branding, culture is perhaps the most self-defining and long-lasting. Our sense of pride as a nation can only grow from seeing our stories on a multitude of screens and sharing our extraordinary talent with the world.
WC: What's the biggest opportunity you see for our cultural sector, specifically audiovisual, as the world media landscape shifts?
VC: As I mentioned earlier, we are no longer operating in a hermetically closed system. Culture and audiovisual content, like many other things, are now global, not local. At a time when countries around the world are rejecting globalization. When governments turn to insular policies, it is important that we remind ourselves that it is bridges and not walls which have lead us to this golden age of innovation and creativity. That is why we must look beyond our borders for new partnership opportunities.
At the CMF we a continuously align our programs to maintain steady growth for the Canadian industry. Of the variety of projects the CMF funds, developing new international coproduction opportunities for Canadian producers continues to be a top priority and one with great opportunities. As consumers have growing access to content from all corners of the world, the production business benefits enormously from working on the international front and pooling resources, sharing expertise, talent and access to markets. Maximizing the potential of coproductions is one of our goals at the CMF. This is why we are developing and renewing partnerships with funding organizations similar to ours in countries around the world. We have agreements with eight different jurisdictions and will add more in the months to come.
Extraordinary productions have come to life because of coproduction agreements between Canadian and international producers. For instance, Vikings, a CMF-funded, Canada-Ireland coproduction. Broadcast on the History Channel, the first season of Vikings reached an average US audience market share of 5.3% compared to the network's average 1.8%.
 Having made the top 10 on US Cable, there are surprisingly no Americans in the show. Love for Vikings and the people and places it explores has expanded into a universe of fandom. Subtle influences having been making their way into the mainstream, from hairstyles to tattoos. An abundance of Instagram fan accounts share photos of the show and related culture. Feeding audiences' desire for more, the team produced the Real Vikings documentary, now a series of its own, a Vikings comic book, a board game and even a new card game. Its newest expansion is a behind the scenes interactive journey Vikings: A World Revealed, where the stars guide us in the making of the show.
​In Finland, the series' average audience market share in the coveted 25-44 age category was 97% above the average for the network. Now you have to admit that a Canadian coproduced series about Vikings, achieving that kind of success in a Nordic country is not bad!  ​