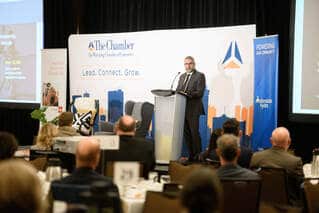 If you've been out to a Winnipeg Chamber event in the past few months, you've probably noticed our great looking new backdrop. (Left)
It was made for us by one of our members, Valley Apparel + Display.
Valley will be moving to a new location (560 Marjorie St.) at the end of the summer, so we caught up with ​Canadian Display Sales Manager Alex Vanderhooft for a quick Q&A to see how things have been going.
---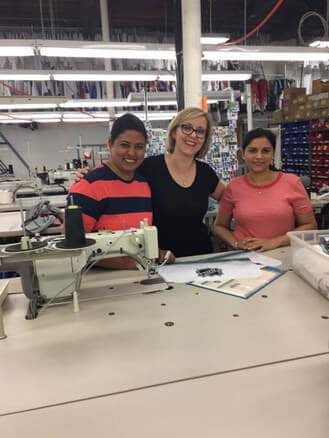 Tell us a little bit about Valley Apparel + Display and what you guys do.
We are experts in producing vibrant graphics on fabric. Our specialty is high quality custom apparel, large format banners and displays. Every fabric piece is printed, dyed, cut and sewn in-house.
Tell us something unique about Valley Fashions that people probably don't know.
Valley is the only large format dye-sublimation company in central Canada.
Many people have heard about dye-sublimation but don't really know what it means. The process starts with a print on transfer paper. The paper is then sandwiched with the selected fabric and run through a heat press. A combination of temperature, time and pressure turns the dye into a gas which penetrates the fabric. Because the graphics are embedded into the fabric rather than sitting on top means they are washable and long lasting.
Another unique fact is that we can print up to ten feet wide. This allows us to produce backdrops for most of the TV & Movie productions in town including set banners up to 100' wide x 20' high. We also reproduced the Sistine Chapel walls at full size for a Mexican installation.
What do you enjoy most about your work?
The process. It is rewarding being involved in the creative process and seeing jobs come to life in production. Working with a wide variety of clients, industries and projects makes things interesting.
The people. We have a great team of people who take pride in their work and come from all corners of the globe.
Our clients tend to also feel like part of the team. When I was self-employed, Valley was one of my main suppliers. They worked with me to ensure I was getting top quality products and value for my clients. When they asked me run their display division it was a natural fit. I already felt like I was a part of the Valley family.
Describe Winnipeg's business community in your own words.
I have always felt that Winnipeg's business community is very supportive. If you are willing to make the effort by reaching out to people in your field of interest, you are often rewarded with referrals, valuable advice and a broader perspective. Winnipeggers tend to be great connectors. Because we have a small town feel, it's hard to work with any local business without finding some kind of connection.
We frequently see you out at Chamber events; what has been your favourite Chamber event that you've attended this past year? How about a favourite non-chamber event?
I really enjoy attending the Spirit Awards every year and learning how organizations are improving the landscape of our city. The venue is beautiful, the production quality is excellent and event is well executed.
It is hard to choose a favourite non-Chamber event. The Folk, Jazz and Fringe festivals draw performers and attendees from all over the world. They help fund our local economy and showcase what a great city we have. I am always grateful to live in a place that can support these world-class events and still get to work in 10 minutes.