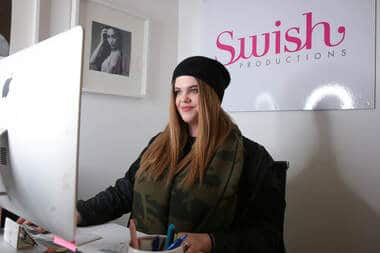 Grace Stewart, Manager at Swish Productions
Before you ask someone at Swish Productions what it is the company does, you may want to check your schedule to make sure you don't have any commitments for the next hour or so.
​Swish offers a wide scope of brand management and event planning services to its clients, and just recently expanded its services to include a co-working space at its offices on Corydon Avenue.
Swish Co-Create is set to host The Winnipeg Chamber of Commerce's Member MeetUp on October 10, so we caught up with Grace Stewart from Swish for a quick Q&A about everything the company has going on right now.
Q: It seems like Swish has its hands in so many different fields and industries. Give me an overview of the services Swish offers here in Winnipeg.
So Swish products is basically a fashion/lifestyle PR and marketing business. So we do web development for businesses, social media content, event management, fashion show production, fashion styling, we do all kinds of things. Some of our big clients are Schwartzkov, TenSpa, Facebar, Outlet Collection Winnipeg, Polo Park, Top Shop. So we do a lot of in-house events for clients, like Christmas events, Black Friday, store openings. We staff it, design the event space, and all of that kind of stuff.
Q: What sort of companies should be picking up the phone and calling Swish? What are they missing right now that you can help them with?
​
The biggest thing that I find people need the most help with is, honestly, content curation, for their various platforms and targeting the right types of people who they want to be their clients. Even web development, a lot of people struggle with making user-friendly websites. And we do a lot of work for our clients in promoting them in the media, as well. But I find the biggest need is with companies who are maybe just starting out and struggling with their brand identity and content. So they have this amazing product or idea but they struggle with how to get it from A to Z.
Q: Tell me about Swish Co-Create, and how it came to be.
So because of everything that we have going on, we have this big office space where, day-to-day there's usually about four of us working here. So we just wanted to utilize our space a little better. And because of a lot of our clients' needs, for example, we work really closely Ricki's with our modeling agency, and they were interested in having an in-house photo studio they could use sometimes. We had all of this space, and said let's create a space for people where they can rent it out for an hour, do their Instagram content, we can shoot it in-house here. We also made a boardroom, that was another need that we saw for people who wanted just a professional meeting space they could use instead of going to Starbucks. It was really just a lot of things that we could see many of clients needed, so if we could offer them those things, it just made sense. So it was kind of organically born that way.
Q: How has the reception been to Swish Co-Create so far?
It's been really good. Podcasts are filmed out of here, we've had a lot of wedding planners meet their clients here, businesses that we've never even thought about coming here to have their meetings, even fitness training, yoga classes. A lot of bookings for the photo studio, people will come here to do some Instagram content for their brand, or people who even just want to come in to get some professional photos for their website, or a headshot.
Q: What sets Swish's co-working space apart?
It's the difference between just going somewhere and working for the day by yourself, getting your work done, and what we offer, which is additional support. If you're needing help with your website, we can help you with your website, if you're needing help with your branding, we can set up and appointment to work with you on your branding. Things like PR, media support. So it's all of that additional business support.
---