What is it like to be in the restaurant industry for over 25 years? How has the industry changed and adapted to the changing trends in food? Our next Member MeetUp we will be meeting at
Jeffrey's Restaurant and Lounge
 to hear a little bit more about the restaurant industry and what it's like to grow a successful business.
​But before that, we asked owners Don and Mauro a little bit more about their restaurant.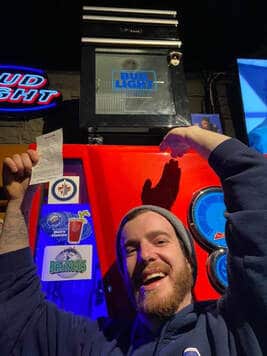 Q1: April 3 marks your 10 year anniversary of being in business. How has the industry changed since you opened?
Well since we've been at Jeffrey's from 2010, we find the industry changes to what the restaurant does and offers. From keeping up with the times, and events, and staying on top of renovations, great food and service, we have created a fun welcoming atmosphere that keeps bringing people out.I find more people are into sports lounges rather than big night clubs, and with the restaurant as well where families can come for birthdays, retirements, weddings, wakes or fundraisers and just get together. We offer buffet style food or off the menu choices. With Jeffrey's we make it easier for people to go out and eat rather than host their own function at home. So we feel the industry changes as we make those necessary changes to keep it going and vibrant.We also have live bands every Friday and Saturday for people to come enjoy Winnipeg's top musicians, which Jeffrey's has been known for. We support our fantastic musical talent Winnipeg has to offer. So come on down for a dinner and dance the night away, or join our pool league as well.
As for patrons who want to stay home, well we've signed up with SkipTheDishes four years ago, so we are still able to deliver our menu to our guests at home.
---
Q2: You participate in a lot of food festivals across the city including Pizza Week and La Poutine Week. How do you feel these festivals benefit your restaurant and the restaurant industry as a whole in Winnipeg?
From poutine, burger, and pizza week is another great opportunity to showcase everyone's great food ideas and gets people energized in going out together, and enjoying what every restaurant has to offer. It's really a great thing for the industry and for the public to enjoy.
Q3: For game days – pizza or wings?

We stay on top of all game days, whether it be our Jets and Bombers or other sporting events, that's a must. We offer tons of specials during sporting events as well as Jets/Bomber ticket giveaways, multiple prize draws, free product sampling, food specials, happy hour pricing, and a great place for all of Winnipeg's awesome sports fans to gather together and cheer on our beloved teams, win or lose!

Q4: What can people look forward to at the Member MeetUp?

A great atmosphere, great menu and awesome pizza. ​

Q5: Where do you see the restaurant industry going or changing in the next 5 years?

We believe the restaurant industry will hold strong and steady and even get busier within the next 5 years. ​
---
Member MeetUp


POSTPONED

Please check here for regular updates pertaining to Winnipeg Chamber events.