​Thank you for giving me the honour, privilege and opportunity to serve as your Chair of The Winnipeg Chamber of Commerce.
Today when I look back on our own business success, I consider myself so very fortunate to identify as a Winnipegger and a member of the Chamber. Somewhere in my past twenty years in this city I have learned a whole lot about resilience, the 'make it happen' attitude, the practical before pretty, boiling things to their essence before building them back up – the very values that today help us succeed on the world stage. The isolation that breeds innovation. To me, Winnipeg is the land of opportunity, it's a diamond in the rough. It's quirky, gritty and interesting… it's a place where the very definition of resourcefulness must have been invented.
And The Chamber, then, is Winnipeg's Agora, the forum where new ideas are discussed and debated, where connections are made…and when the going gets tough, The Chamber is a place where I am reminded that nothing new was ever invented by doing the same old thing.
I am beyond excited that as an architect, an immigrant, as a relatively young, female business owner striving for social sustainability, I feel heard and valued at the Chamber. With its diversity, gender-balanced board, and the upcoming back-to back Chairs who just happen to be women, your Winnipeg Chamber is certainly not an old boys' club, but a progressive incubator of ideas: a diverse and dynamic organization that I find myself reflected in and I hope more and more of you do, too.
This year, The Chamber has a lot on its plate. As your Chair, working with my peers on the Board and the brilliant Chamber staff, our first goal is to support the strategic direction which Loren will tell you more about shortly.
Secondly, we will continue to emphasize that our community's prosperity goes hand in hand with the business prosperity of our members. And as such, I will work to remind us that well-designed, compact and walkable cities, public spaces and vibrant streets have a direct, tangible effect on our economy, the well-being of our citizens and the long-term sustainability of our planet.
As an urbanist I believe cities like Winnipeg are the new frontier for design innovation. This is not about throwing endless resources at the issue, but rather working like a lean start-up – through smart, intelligent planning, and strategic urban acupuncture and smart policy – that we can achieve sustainable solutions for less.
As the Mayor mentioned, our city is growing. I believe one of the biggest causes of social, environmental, cultural, fiscal and health issues of the typical North American city – and therefore, Winnipeg – is sprawl. Building a compact city that priorities the human experience over a vehicular one, will result in infrastructure savings we desperately need…savings that will then allow us to invest in quality instead.
But I don't believe in these things because of any particular political affiliation or a worldview, but simply because it just makes sense: good business sense.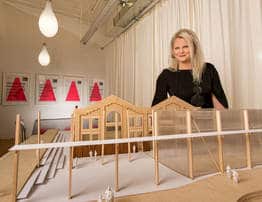 Great design – whether it be urban scale, building or an interior – generates tourist dollars, attracts businesses to a city, and brings customers to a business. I am proud The Winnipeg Chamber embraces the idea of an intelligent city, and that over this coming year we will take a deep dive into evaluating even the most radical and disruptive ideas that have the potential to increase our ROI as a city. We need this discussion to find and build our competitive edge. As an underdog city, we need to out-imagine and out-create our competitors. In a global economy, we need to build on our local design economy.
The good news is that Winnipeg already has an incredibly strong creative and cultural community whose brain resource can be further leveraged. The investment into design innovation has the capacity to overcome almost any challenge and it is what will set us apart in the future.
Finally, moving away from price-based selection to Quality Based Selection when procuring creative services offers one direct way through which our collective tax dollars can yield a better return on investment. Smart design, innovation, and investing in quality will have an enormous positive impact on our pocket books and our collective ecological footprint. Over this next year, we will provoke, stir and question. We hope to engage you in discussion and broaden the community that sees The Chamber as their organization, their base for innovation.
Thank you Loren, The Chamber staff and my fellow board members for inviting me to be myself and promising to provide the damage control when I do.
Thank you Dave Angus for originally tapping me for the best gig in the city.
I am so very humbled by this incredible opportunity, and I am so excited to start sharing all we have cooked up for the year to come. It will be my mission and distinct honour to try inspire you to fall in love with Winnipeg and The Chamber all over again.
Johanna Hurme is an architect and a founding partner of Winnipeg-based 

5468796 Architecture

. Hurme holds a degree from the Helsinki University of Technology, with Bachelor of Environmental Design and Master of Architecture degrees from the University of Manitoba Faculty of Architecture (FAUM).