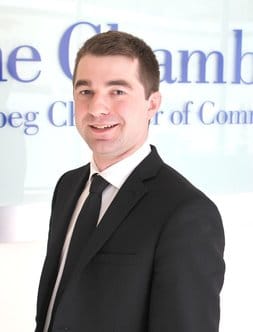 The Winnipeg Chamber of Commerce is pleased to welcome Michael Juce as our new Director of Advocacy.
Michael is a graduate of Brandon University, with a degree in political science and a minor in economics. After graduation Michael was one of six interns selected from across Manitoba for the Manitoba Legislative Assembly's Internship Program. After his internship he worked as a policy analyst on fiscal and economic issues for the Manitoba Progressive Conservative Caucus. Since the 2016 Provincial Election he has been working as the Special Assistant to the Minister of Growth, Enterprise and Trade.
Outside of the office you can find Michael either playing or coaching hockey.
To get in touch with Michael Juce, call 204-944-3315 or email [email protected].