"It was the best of times, it was the worst of times, it was the age of wisdom, it was the age of foolishness…" Written by Dickens to juxtapose profound differences in perspective at a time of great upheaval, the famous opening line applies impeccably well to Canada's current trade relationship with the United States.
Despite regularly posting record trade numbers and having built upon increasingly seamless supply chains across our shared border, Canada is faced with loose talk of hefty tariffs and open questions about the inherent value of free trade agreements. This, in an environment in which the President has demonstrated a willingness to quickly enforce nebulous Executive Orders of profound consequence.
Our trade relationship has seemingly turned on its head overnight. A free trade agreement recently considered vital to our mutual economic interest is now unabashedly called "the worst trade deal in history" and the win-win narrative of pursuing trade liberalization has instantly disappeared. Canadians are instead having to endure a daily diet of Shock and Awe from President Trump's Twitter account, which is far from reassuring for anyone depending on unimpeded access to their market.
Yet despite this historic about-face in American rhetoric, nothing has materially changed in our trade relationship since the inauguration. In fact, all signs point to a renewed commitment to the status quo. President Trump's son-in-law and closest advisor even took the time to present an optimistic picture to our federal Cabinet in Calgary a few days ago.
So how are Canadian businesses supposed to engage its suddenly mercurial neighbour?
---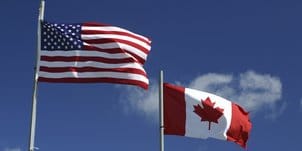 As difficult as it may be, Canadians must view the American market just as they did last year; as a uniquely dynamic marketplace with boundless opportunity. No country can match the cross-section of technological sophistication, innovative spirit, and commercial prowess found in the American business environment. While their liberal economic order will be stress-tested in the coming years, it will certainly take much more than a populist president to undo decades of continental integration and reshape a deeply ingrained business culture, especially if done so unilaterally.
The bottom-line is that panic-inducing hyperbole does not change the practical reality of doing business in the United States. Canadian companies must still ensure that taxes are appropriately filed according to legal structure, that proper procedures are followed when hiring locals, that repatriation of income is done effectively, and that intellectual property is legally protected. Organizations such as TDS Law, EDC, and BDC offer great guides and advice on how to tackle these fundamental questions.
In effect, while the world looks elsewhere to mitigate investment risk, there might well be some wisdom in taking a second-look at the golden opportunities left behind for Manitoba businesses willing to bet that economic realism will eventually trump ad-hoc protectionism.
For further information, we welcome you to attend a half-day conference on the American business climate on February, 28, 2017 entitled What's in it for U.S. eh?.

Mariette Mulaire
President and CEO
World Trade Centre Winnipeg