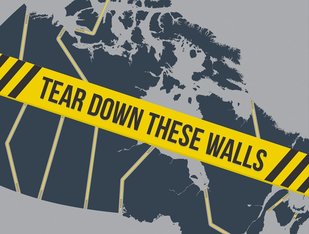 Years of negotiation led to the signing of the Canadian Free Trade Agreement (CFTA) earlier this month. The CFTA replaces the over two decade old Agreement on Internal Trade, which previously governed trade within Canada. Estimates on the cost of internal trade barriers vary, but a
June 2016 Senate report
put the cost as high as $130 billion, or over $3,500 per Canadian. While the CFTA is a positive step forward in improving trade and reducing red tape, much work remains.
​
The CFTA uses what is called a negative list approach, where the default position is for all trade barriers to be lifted. However parties to the agreement (which are the federal, provincial and territorial governments) can take out exceptions. These exceptions carve out sectors from the trade deal, and leave barriers in place. The list of current and future exemptions takes out almost 40% of the 335 page CFTA document!
However the agreement does include a process where working groups will be set up to harmonize rules and regulations. For example the financial services sector is not included in the agreement, and within six months discussions will commence to look at incorporating rules around financial services. Finance and insurance play a key role in the provincial economy, as they employ close to 36,000 people. Alcohol is another area not covered under the agreement, and a working group is to report back within a year with recommendations on how to increase trade.
As part of the CFTA, there are several measures that will help aid small businesses, such as the creation of a single electronic portal which will allow businesses an opportunity to look at procurement opportunities across Canada. The deal also lowers procurement thresholds in many areas, which will open up billions of dollars in contracts to more competition.
The CFTA will come into effect on July 1, the day of Canada's 150th birthday. Stay tuned for an upcoming Chamber event that will let members learn more about the CFTA in addition to other trade deals.
For further information on this and other Chamber advocacy initiatives, please contact Director of Advocacy, Michael Juce, at [email protected] or 204-944-3315.