What started as experimenting with flavours in the kitchen turned into Winnipeg's top gourmet doughnut shop, Oh Doughnuts. We sat down with its owner, Amanda Kinden, to see how she turned a hobby into a successful storefront with two locations.
Keep reading to find out what kind of business resources helped Oh Doughnuts' success, and get insider tips from a successful entrepreneur.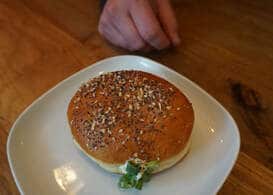 The Everything Bagel Doughnut
Did you always have a passion for business? What's your educational background?
I didn't always have a passion for business, although I did receive my Business Administration Diploma in 2002 with the hopes of opening a Newfie Store (a store that sells products available in Newfoundland). I was too young to make that actually happen, so I moved on.  I also have an Environmental Studies/Geography Degree from U of W and was working at Green Action Centre when I started making doughnuts on the side.
You started making doughnuts in your kitchen. Were you making other deserts as well? 
I experimented with a lot of baked goods in my kitchen. I made Oreos, ice cream, cookies, cakes, vegan cheese, and all manner of delicious dinners. I found doughnuts to be, for lack of a better word, abstract. I had never had a homemade doughnut, and my experimental and ambitious nature lead me to make something most would never think about making. It might not sound ambitious or experimental to make doughnuts at home but some the flavours I started with were very unique.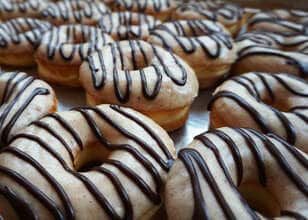 The Butter Glaze with Chocolate doughnut
What makes Oh Doughnuts stand out? 
I think our efforts to have as minimal an environmental impact as possible is part of what makes Oh Doughnuts stand out. I know "being green" is trendy but it really matters to me and we definitely hear from our customers that they appreciate the effort. We compost our kitchen waste, which shouldn't be such a feat in such a large city, but without a municipal compost program, options are limited. Thanks to Compost Winnipeg, we are able to compost all our kitchen waste. Our packaging is also either compostable or recyclable, and we limit single-use items like plastic forks (which are also compostable), straws and bags (we don't offer straws or bags at all). We use a hybrid for our deliveries, source our main ingredients locally (flour, butter and eggs) which are organic or close to. We use fair-trade chocolate, our wood countertops are reclaimed wood, and our used frying oil is picked up and converted into biofuel.
When did you decide to open a second Oh Doughnuts location? What were some of the highs and some of the lows?
We decided to open a second location in February 2018 over breakfast. The leasing agents had approached us about this new building, and at first I vehemently refused to even consider it. Then the more we talked about what it would look like, and since things were running smoothly at our first location I  actually started to get some free time… I started to entertain the idea. And it just made more sense.  The kitchen at Broadway is such that we can't keep making dough while staff are glazing and decorating. As any business owner will tell you staffing is one of, if not the biggest challenge to running a business. Having the staff buy into your vision and level of standards can be a challenge, and also retaining staff is a huge challenge.
Can you talk about some of the daily challenges of running two businesses and how you overcome them?
I'm lucky that I have a manager at Broadway that has been with Oh Doughnuts since the first shop opened. She is a big part of why I was able to open a second location. With a gourmet product that has a short shelf life (we don't use dough mixes or conditioners or preservatives) managing customers expectations can be challenging. We have almost 40 staff now so really I spend the bulk of my time with scheduling and ensuring we have enough stock and putting out the little fires like a brand new microwave breaking down. I could work 24 hours a day 7 days a week so I'm really finding my biggest challenge is taking care of myself.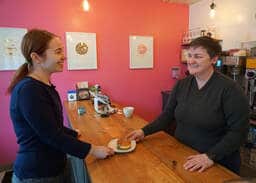 Amanda serving a treat at Oh Doughnuts on BroadwayWhat does a typical day look like for you?
My day usually starts around 5 a.m., but our bakers start at 9 p.m. for the next morning, a fryer starts at 2 a.m., and decorators start at 3 a.m. and 4 a.m. If someone calls in sick then I could be frying at 1 a.m. or making dough at 9 p.m. So I'll come in and count the float for the day, check on doughnut production, check on ingredients we need, maybe head to the store, or place an order. I answer a lot of emails, plan the menu and my favourite part, dream up new doughnut flavours.  My mom is my bookkeeper, so I spend a lot of time on the phone with her going over accounting and payroll stuff, and I spend a good few hours a week making the weekly menu and the schedule. I send a nightly production email to the bakers, and do most of the social media posts.
What resources helped you out when you first launch your business? What tools were a huge help to making Oh Doughnuts the success that it is today?
When I was first starting to make doughnuts 6 nights a week in a shared kitchen, I tried to use the Women's Enterprise Centre and Futurpreneur, however at that time there were no gourmet doughnut shops in town, and they just couldn't seem to believe that we could get enough people through the door to sustain a storefront. I was encouraged to focus on wholesale because I had proven that that worked and I could minimize my costs by not having a storefront. Had I just pursued wholesale clients, it would not have been viable as there are only so many coffee shops in the city that aren't Tim Hortons. I did take advantage of the Business Start Loan the provincial government offers, through ACU.
What advice do you have for entrepreneurs who are just starting out?
Maybe every business owner says this, but I think my business is a bit unique in that there are so few hours when staff aren't working, so what it demands of me is a lot. Business owning ,in general, is a lot, and I do wonder if part of Oh Doughnut's success is due to the fact I devoted everything I had to it. So my only advice is that someone has to be very prepared to give the business more attention than anything else in their life, at least for the first couple of years. My other piece of advice is to listen to what your customers want. I started out wanting to make desserts in general, but I made doughnuts once and people were very interested in knowing where they could get more and if they could order. So I focused on doughnuts. I think it's obvious that it takes a lot of hard work to run a business and make it successful, but there's likely a point where if you are working really hard and sales aren't picking up, it would be wise to shift gears or make adjustments earlier rather than later. A big part of owning a business is admitting when something doesn't work and finding solutions.
Where do you see Oh Doughnuts going in the next 10 years? What is the main goal?
Doughnuts are a thing folks have an emotional attachment to. While the cupcake trend came and went, I think doughnuts have a greater staying power. Whether that could translate to Toronto or Vancouver, who knows. I also think that because I am so hands-on we need to ensure customers feel like they are getting value for their purchase, a franchisee would have to have that same dedication to quality and understand the process. Besides possibly franchising we do have plans to expand our downtown location and the menu in a few years.
What's it like managing two businesses and a family?
Managing two businesses and a family is never dull! My partner is still home with our daughter so most of my attention can go to the two shops. And we were able to train a lot of the staff at Broadway before the second shop opened, which made a huge difference. Right now I'm working on carving out a bit of time for me, and trying to take a day here and there where I don't physically go to the shop. Devoting all my energy and time to the business can only last so long.
---