Every month, we ask different participants of our 
Leadership Winnipeg
 class to blog about their experience…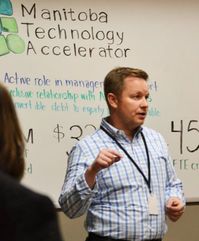 The entrepreneurial spirit is alive and well in Winnipeg. Our Leadership Winnipeg class spent the day on a backstage tour of just some of the powerhouse organizations behind Manitoba's technology and innovation ecosystem.
We started the day with Marshall Ring of the Manitoba Technology Accelerator (MTA) learning about different types of investors, funding mechanisms, customers vs. consumers, disruptive technologies, and the path to commercialization. Marshall's focus at the MTA is to build $100M+ companies, and he and his team are doing just that. In 2016 alone, MTA saw over $125M of capital invested, $35M in revenue, and over 450 jobs created.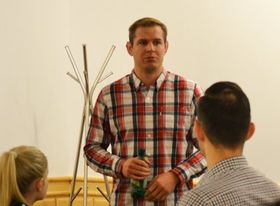 Next, we heard from Jeff Adamson, one of the co-founders of SkiptheDishes. Jeff is a small-town Saskatchewan boy with a desire to "put the Prairies on the map." With a focus on frugality and constant survival mode, Jeff and the rest of the team at Skip have worked hard "to create something big," and to develop a world-class work environment right here in Winnipeg.
Co-founder Chris Simair also led us on a tour of just three of the floors that Skip the Dishes occupies in the downtown Exchange District. Their vision: an entire Skip Campus, where Winnipeg is the food logistics capital of the world. But they won't let their egos get too big: "Our focus is to always be a good person first," says Jeff. The four co-founders are now spending some of their time getting involved with mentorship and angel investing, in addition to their full-time roles with Skip.

Over lunch, we heard about technology and innovation from Elyse Allan, Chief Executive Officer of
GE Canada
, at the Winnipeg Chamber of Commerce's Monthly Member Luncheon at the Delta Hotel. She talked about disruption, Internet of Things (IoT), and the VUCA times we live in: volatile, uncertain, complex, ambiguous. She stressed that there has never been a better time to innovate.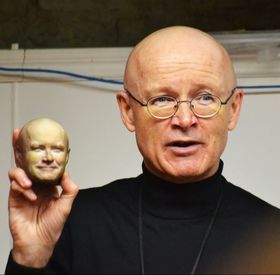 The afternoon found us deep in Innovation Alley, touring the North Forge Fabrication Lab with Robert Elms. Robert gave us some of the history of North Forge, and he walked us through the Fabrication Lab, a member led maker lab chock full of cutting edge technology and equipment, including woodworking tools, 3D printers, laser printers, multiple-point routers, and more. Robert told us hilarious and inspiring stories as he toured us around the maker space. Robert runs public tours every Tuesday at 6:00 p.m.
We also heard from Matthew Olson, North Forge's Entrepreneur in Residence, about his history with the Fabrication Lab, and some of his work in the space.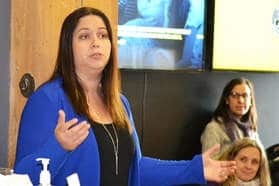 A quick walk down the block led us to the
Red River College ACE Project Space
, an interactive work space for collaboration between students, industry, and entrepreneurs, where we met Haider Al-Saidi, the Chair of Applied Computer Education for Red River College. Two floors down in the same building, we heard from Jenn Lusby, Business Development Manager for
Futurpreneur Canada
, a not-for-profit organization that provides financing, mentoring, and support tools to entrepreneurs aged 18 to 39. Jenn eagerly chatted about the exciting work that Futurpreneur is supporting right here in Winnipeg.
​
I work in the technology space, and I know that this behind-the-scenes innovation tour was only the tip of the iceberg when it comes to innovation in Manitoba. Organizations like ICTAM, LSAM, and all of the educational institutions in Winnipeg are also major players in this space.​But, as Marshall Ring so aptly quoted, "It takes a village to raise a child, but it takes a community to raise a start up." I would add that it takes a trusted network to raise an established company, and I can't think of a better place to raise a company than right here in Winnipeg.
Leadership Winnipeg is grateful for the support of our Vision Partners