Marketing can be tough at the best of times. Trying to identify the right audience for your product or service, how to get them to pay attention to you, which platform(s) to do it with (and whether or not to throw some money at it), the options are nearly endless in today's 'always online' era.
But if you're a small business with a limited budget and resources, it can be even more daunting trying to figure out exactly where to spend your marketing energy and money.
We caught up with Dooley PR & Marketing to get some invaluable marketing insight.​
---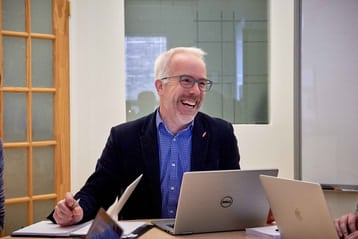 Photo by Ian McCausland
A marketing strategy can be intimidating and business owners often don't know where to start. What first step would you encourage a business to take when developing a new campaign?
Too often, businesses try to ask a marketing campaign to do too much. They'll attempt to squeeze everything they do into a single ad or social post. Be clear about what you need your campaign to accomplish and who your customers are. Don't try to be all things to all people. And don't forget to have a clear call to action: buy now, sign up for our newsletter, share with your friends, etc.
We always start with business objectives, values and mission. Those things will inform your brand and help you develop more effective creative campaigns.
Paid digital strategies allow you to target niche audiences more affordably than ever before. That means you can segment your products and services and market them to highly specific groups. We like to build strategies that have an impact on every part of the sales funnel – from building awareness to encouraging purchase intent through to retaining a client.
For a small business with a limited marketing budget, how could they leverage their limited marketing resources to maximize their ROI?
Small businesses and start-ups with limited budgets should start off by agreeing that they can't do everything. For most businesses, I would start with a website that is clear, effective, engaging, easily found and mobile-friendly.
The next step is to make sure your Google My Business presence is accurate and up to date. That's a simple way to boost your exposure to potential customers. After that, I'd figure out which social platform fits your business and your customers best and I'd invest time and energy in that. If you're able to amplify all of that with paid search and paid social, then you're on your way.
What is your best advice for a young marketing professional entering his/her first job?
Spend time learning new things on your own. For example, even if you don't want to manage pay-per-click campaigns, it's very useful to know and understand how they work. Google and other digital marketing platforms offer excellent free academies where you can self-study.
Pay attention to what the best in the business are doing (or have done) too. Emulating the great ones is a good way to become great yourself. Study the standout print and TV ads from the past and present if only to spark your own creative process to improve.
Which social media platform do you prefer using and why?
It depends on who you want to reach, and what you're trying to do. Here's a very brief overview.
I'd say LinkedIn deserves the 'most improved' award over the past few years. It still offers what I believe is the best organic reach. In other words, a post on LinkedIn (photo, video, text, etc.) is likely to reach a larger organic audience relative to other platforms. LinkedIn's paid options are pricier than other platforms, but if you're selling business-to-business, then it may be worth it.
Twitter is all about what's happening now. Organically, Twitter is best when you're on it a lot, both posting and responding. It can be an excellent customer service tool too, because you can see and respond to good and bad comments in real time. Twitter can be effective as a paid platform, especially if your company is in the news or has a product or service that fits what is currently in the zeitgeist.
Facebook and Instagram are fantastic for paid reach and can be excellent for community building. Facebook reviews are also a powerful means of social validation for your company. And Facebook's audience is gargantuan. Instagram is a better visual medium that targets people by interest and lifestyle. It thrives on visual creativity and clever wordplay and tagging. We love Instagram for both organic and paid strategies. If you're in consumer goods, fashion or food, for example, then you need Instagram.
YouTube remains massively popular as a social channel and video search engine. People turn to it for do-it-yourself help, for inspiration, for laughs and more. Ads on YouTube can be trickier; excellent visuals presented in a short time frame are key.
Google is also worth discussing as it continues to invest in and expand what you can do with your Google My Business profile. You can post photos, videos and special offers. It also links directly to your Google Reviews, which are vital for businesses today. Ensuring your Google My Business information is accurate can help drive customers to your business.
Let's also give a shout-out to email, messaging and sms marketing as an effective 'social' marketing channel. True fans that subscribe to your email, messaging and sms marketing are worth their weight in gold to a business. Any time you have someone opting in to receive your messages (via a website or an app), you have a great opportunity to build a customer for life.
No matter which platform you choose to work on, you'll enjoy more success if you are able to develop a unique point of view and a strong brand that works all the senses. The better you know yourself and who your audience is, the more successful your marketing will tend to be. People who present interesting observations and genuine opinions tend to attract the largest audiences. If you try to please everyone, you'll likely have little engagement and less brand identity.