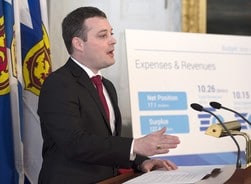 Nova Scotia recently brought down their
2017 budget
, which included an increase to the small business threshold from $350,000 to $500,000. The threshold allows for small businesses to pay a reduced tax rate on their first $500,000 of income.
Why does that matter to Manitoba?
Unfortunately with the Nova Scotia changes, Manitoba is the only jurisdiction in Canada with a small business threshold below $500,000. Manitoba's small business threshold is still set at $450,000, which means small businesses in Manitoba start paying corporate taxes sooner.
While we do applaud the provincial government for maintaining the small business tax rate at 0%, (the lowest in Canada) the time has come for Manitoba to get in line with the rest of the country and raise the small business threshold. Raising the small business threshold to the same level as everywhere else in Canada could save a small business up to $6,000 in taxes a year. With the potential for large tax cuts coming in the United States, it is essential the Manitoba government takes steps to ensure the province remains competitive.
This is why the Winnipeg Chamber of Commerce recommends the province establish a tax commission. The tax system in Manitoba has not been reviewed in almost a generation. With a carbon tax coming and the government's promise to reduce the PST to 7% in their first term, now is the time to step back and rethink our entire tax system. The review should be undertaken by a commission of independent experts tasked to ensure our tax system meets the cornerstones of a healthy, prosperous community-fairness, simplicity and competitiveness.
For further information on this and other Chamber advocacy initiatives, please contact Director of Advocacy, Michael Juce, at 
[email protected]
 or 204-944-3315. 
​