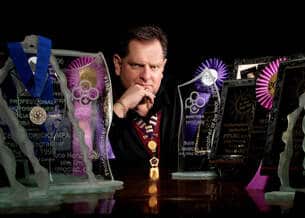 A local photographer and Winnipeg Chamber of Commerce member continues to cement his legacy as one of the most decorated photographers in town after being awarded 'Manitoba Photographer of the Year' by the Professional Photographers of Canada (PPOC).
Bruce Hendricks of Impact Photographic Design won the award – along with 'Portrait Image of the Year' and 'Nature Image of the Year' – at the PPOC's national conference in November, and it marks the fourth time Hendricks has won the prestigious award.
Now one of the most accomplished photographers in Manitoba, Hendricks still recalls being turned away by the PPOC when he first applied for membership after taking a strong interest in photography in high school.
"I realized at that point, I'm at a fork in the road. I can either say, 'These people are stuck in the mud, they don't know what they're talking about,' or I can shut up, swallow my pride and learn," Hendricks says. "And as far as my photography goes, that was the biggest and best decision that I ever made, to swallow all of my pride, and realize I'm nowhere near as good as I think I am, and just continue on."
And continue on he did, perfecting his craft and ultimately starting Impact Photographic Design in Winnipeg, named after something that he attributes a lot of his early success to.
"I made it a major focus of mine the composition of my images," Hendricks says. "I didn't have access to a studio. At that time, off-camera lighting and outdoors wasn't as big of a thing, but I knew that if I could make an image visually appealing to people, I can make them like an image, even if their conscious mind can't exactly recognize why.
"I can make an image have a lot more impact than someone who maybe understand composition."
Now recognized by the PPOC as a Master of Photographic Arts, Hendricks says he's always loved the challenge and day-to-day diversity that photography provides.
"There's an old saying: 'I don't know what I don't know, and I don't know that I don't know it.' It's a lifetime of just trying to do better today than you did yesterday. If you're not continually learning, you're not just stagnant, you're falling behind in this industry."
After beating breast cancer twice, Hendricks' mother passed away from the disease six years ago, which ultimately inspired him to establish the project that he's currently working on: a photographic book that features the stories of breast cancer survivors, and showcases them enjoying life once again.
"I want to create a book that, when a woman comes out of her doctor's office and she's just been told that she has breast cancer, I want her to be able to go pick up this book, and I want her to be able to see a bunch of photographs of women who have been exactly in her shoes, back to enjoying life and whatever is most important to them," Hendricks says.
"I have to tell you, the stories that I'm hearing are humbling me. Cancer changes people."
To learn more about the book and how you can get involved, visit impactphotographicdesign.com/breast-cancer