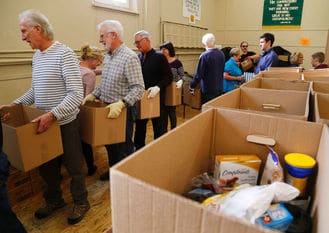 You've heard it now before, Manitoba is Canada's most generous province per capita. Today it's important to note how that is measured. It's measured by tax filers, not by government support but by everyday Manitobans who generously support charitable organizations in our community.
Our Province is experiencing a shift. For the last year, all examples pointed to the potential for our Government to move from being known as a principle philanthropic donor. Their support was often counted on as a first step to campaign planning. Now, it appears they can be counted on as a funding partner with opportunities in newer, more emerging areas of investment including social impact bonds.
Change is always difficult and this could represent a significant change to how the nonprofit sector is funded. However, with change comes opportunity. We have the chance to get back to the fundamentals of fundraising. Here are my top three suggestions:
Stewardship – Get out the door and thank your donors. Thank them for their gift and outline the impact their support has made to your organization. Listen to their response and feedback. Ask them how they would like to hear from you, how they would like to be asked and how they would like to be recognized and stewarded for their gifts. This will improve your relationships with your donors leaving them feeling more valued and respected.
Assess your fundraising activity – If you don't have the resources internally, seek out an external partner or consultant who is experienced in fundraising assessments to conduct a comprehensive fundraising review that analyzes your prospects, activities, materials, and strategies. It helps to phase out the activities that are no longer working and identifies opportunities for areas of growth, collaboration, engaging new prospects and potential partnerships.
Assess your feasibility – Go back to that chart that breaks down the number of gifts required to raise your goal.​

Is it feasible?
What assumptions did you use to set your goal and are they still relevant? You may have to review your plan and adapt to a new fiscal reality, even within your current fiscal year.
Do you need to invest in prospect research? Is your fundraising story compelling and does it communicate urgency?
Do you need to seek out new champions and new strategies?
This is a time of change but also a time of opportunity. It's the time to be adaptable and show positive leadership. Thank those who have been your closest donors, volunteers and investors, review your goals and your activities, understand the newer forms of giving and ensure your organization is ready to adapt to the next phase of reality. If our sector commits to this, Manitoba will continue to be known as our country's most generous province.